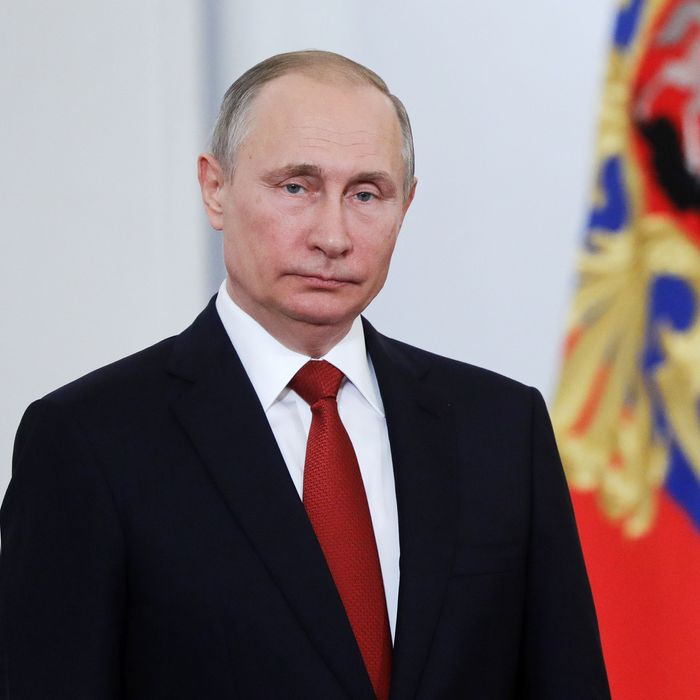 Putin is not pleased.
Photo: Mikhail Metzel/TASS
By a 97-2 vote, the U.S. Senate approved stronger sanctions on Russia Wednesday and took the first step toward limiting President Trump's ability to ease those sanctions.
The sanctions package, approved by every senator except for Republicans Mike Lee of Utah and Rand Paul of Kentucky, imposes new sanctions on the railway and mining sectors of Russia, in addition to entities "conducting malicious cyber activity on behalf of the Russian government" and "supplying weapons to the Assad regime."
More problematically, at least as far as the White House is concerned, the package also codifies into law five executive orders sanctioning Russia issued by President Obama. That means President Trump would not be able to strike them down as easily as Obama ordered them.
Secretary of State Rex Tillerson has argued against this measure, saying it hamstrings the White House's negotiating abilities. "I would urge Congress to ensure any legislation allows the president to have the flexibility to adjust sanctions to meet the needs of what is always an evolving diplomatic situation," he told the House Foreign Affairs Committee Wednesday.
Senate Minority Leader Chuck Schumer agrees that turning the sanctions into law hamstrings the White House. That's why he likes it. The deal ensures "that the United States continues to punish President Putin for his reckless and destabilizing actions," Schumer wrote in a statement that not-so-subtly suggests Trump might try to remove the sanctions.
The Senate's package still needs Trump's signature to become law, and in an attempt to ensure that, they appended the new Russia sanctions to a bipartisan bill on Iran sanctions. Assuming the bill makes it through the House with the Russia sanctions intact, Trump will face a tough a choice: Sign the bill because it's tough on Iran or veto it because it's too tough on Russia?