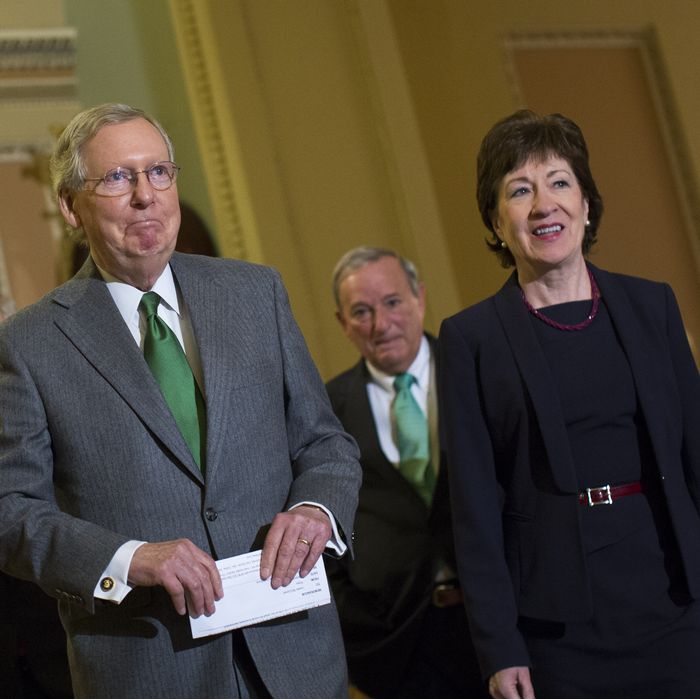 Mitch McConnell with Susan Collins, who might sink his health bill.
Photo: Drew Angerer/Bloomberg via Getty Images
The task of passing the Republican health-care bill through the Senate became even trickier over the weekend as more GOP senators expressed skepticism about the contents of the bill, as well as Majority Leader Mitch McConnell's plan to ram it through the chamber by the end of the week.
With all 48 Senate Democrats opposed to the Better Care Reconciliation Act, Republicans can only afford to lose two votes. Since the draft was unveiled on Thursday, five Republican senators have said they oppose it in its current form. By the Hill's count, at least 15 remain undecided, and some have expressed serious reservations.
The crucial development is that these objections are coming from opposite corners of the GOP conference. The legislation McConnell drafted behind closed doors over the past few weeks is extremely similar to the deeply unpopular American Health Care Act, which was passed by the House. The logic behind putting out a bill that was still widely disliked was that small tweaks to make it somewhat less horrible would be hailed as major compromises. Conservative senators would likely get the changes they demanded since, as one senior Republican congressional aide suggested, "moderates always cave." Presumably, this slightly more conservative health bill would then easily survive a second vote in the House.
Unsurprisingly, minutes after the BCRA draft was released, four conservatives said it needed to shift further to the right — which would make it even crueler. But on Friday, Senator Dean Heller threw a wrench in the plan when he came out against BCRA, saying that like other GOP moderates, he's not willing to take health insurance away from "tens of millions of people."
While the White House was heavily involved in getting AHCA through the House, in recent days President Trump has sent mixed signals about the legislation. Sunday on Fox and Friends, Trump admitted that he called the House bill "mean" — though he hailed it as a major achievement during a Rose Garden ceremony in May. For what it's worth, Trump predicted that the Senate bill will pass.
"We have a few people that … want to get some points; I think they'll get some points," Trump said of the wavering Republican senators. "I don't think they're that far off … I think we're going to get there."
These are the GOP holdouts, and what they say it will take to get them to "yes."
Senators Who Want a More Conservative Bill
Rand Paul of Kentucky
Of the four senators who released a joint statement on Thursday panning BCRA, Paul seems the most likely to remain a "no."
Paul has been criticizing the GOP health bill for months, saying his libertarian principles will not allow him to support any measure that merely replaces the Affordable Care Act with "Obamacare Lite." (Paul also happens to be from a state where more than half a million people gained health insurance thanks to Obamacare.) Paul has denounced two elements of the GOP plan — a refundable tax credit to buy insurance and a "stabilization fund" to bring down premiums — as "new entitlements."
Sunday on This Week With George Stephanopoulos, Paul said the GOP claim that the current health bill will make premiums go down is "false." He was vague on what it would take to get his vote, saying, "I could vote, if we get to impasse, if we go to a bill that is more repeal and less big government programs, yes, I'll consider partial repeal."
Ted Cruz of Texas
Following the announcement with his three conservative allies, Cruz said in a separate statement, "As currently drafted, this bill draft does not do nearly enough to lower premiums." However, Cruz said he will support the bill if it's amended to "do more to ensure consumers have the freedom to choose among more affordable plans that are tailored for their individual healthcare needs."
Cruz is arguing that people should be allowed to buy cheap, skimpy health-insurance plans that don't meet the standards set under Obamacare. As New York's Eric Levitz explained:
Under the Affordable Care Act, insurers are required to include a package of essential health benefits in every plan they sell. This provision is, in essence, a means of socializing risk without socializing the health-care system: Healthy people pay for more generous plans than they need (so far), thereby making it possible for for-profit insurers to offer affordable coverage to people with serious medical issues.




In other words: Cruz is effectively arguing that (temporarily) healthy people should have the freedom to buy cheap insurance that won't actually protect them if they become severely ill, even if that means nonaffluent sick people will no longer be able to afford their medical treatments.
Cruz wants to offer an amendment that would allow insurers to sell the less robust health plans alongside existing Obamacare-compliant plans on the individual market. As the Hill notes, "The amendment would likely result in sicker people buying the ObamaCare plans, which would likely be more expensive than they are now."
According to Axios, McConnell may block Cruz's attempt to modify the bill because he doesn't want any Republican amendments offered during next week's "vote-a-rama."
Mike Lee of Utah
On Friday night, Lee posted an 800-word statement on Medium detailing his issues with BCRA in its current form. He starts out with an argument critics on the left would agree with, saying the bill is about tax cuts, not improving health care. Then he complains that it merely "keeps the Democrats' broken system intact."
No, the Senate healthcare bill released yesterday does not repeal Obamacare. It doesn't even significantly reform American healthcare.

It cuts taxes. It bails out insurance companies. It props up Obamacare through the next election. It lays out plans to slow Medicaid spending beginning in 2025, but that probably won't happen. And it leaves in place the ham-fisted federal regulations that have driven up family health insurance premiums by 140 percent since Obamacare was implemented.
Bizarrely, one of the people who came up with this "caricature of a Republican health care bill" is Lee himself. The senator was a member of the group that crafted the legislation, but he claims his "moderate colleagues" rejected all of his suggestions.
Lee says now he just wants an opt-out provision in the bill, since it's clear that no one has any idea how to fix the health-care system, and "history teaches us that when we don't know how to solve a problem, the best thing to do is to experiment."
And so, for all my frustrations about the process and my disagreements with the substance of BCRA, I would still be willing to vote for it if it allowed states and/or individuals to opt-out of the Obamacare system free-and-clear to experiment with different forms of insurance, benefits packages, and care provision options. Liberal states might try single-payer systems, while conservatives might emphasize health savings accounts. Some people embrace association health plans or so-called "medishare" ministry models. My guess is different approaches will work for different people in different places — like everything else in life.
Ron Johnson of Wisconsin
It was somewhat surprising to see Johnson's name on the conservatives' statement, as he hasn't made a habit of standing up to the GOP leadership, and he's been a particularly harsh critic of Obamacare. Over the weekend, Johnson suggested that his primary issue with BCRA is that McConnell is trying to pass it in a matter of days, before there's any chance for analysis.
"There's no way we should be voting on this next week. No way," Johnson said Sunday on Meet the Press. "I have a hard time believing Wisconsin constituents or even myself will have enough time to properly evaluate this, for me to vote for a motion to proceed."
But on Monday, Johnson made it clear that his complaints are about more than just process. In an op-ed for the New York Times, Johnson decries the generosity of the bill's subsidies, its failure to eliminate the tax advantage on employer-provided insurance, and its maintenance of Obamacare's market-distorting regulations – the Wisconsin senator demands that Washington "return more flexibility to states, to give individuals the freedom and choice to buy plans they want without Obamacare's 'reforms.'"
This last complaint is a bit odd, given that the Senate's bill already does exactly that.
Regardless, Johnson has indicated that he isn't a hard "no," and Politico reports: "Republicans working on the bill believe they can win over the Wisconsinite by connecting him with experts and officials who can address his concerns, such as CEOs of insurance companies or Wisconsin institutions."
Republicans Who Think the Bill Is Too Harsh
Dean Heller of Nevada
During a press conference on Friday, Heller became the fifth senator to formally oppose BCRA. He said the bill is "not the answer. It's simply not the answer."
Heller said the bill does not do enough to protect the 200,000 residents of his state who have health insurance due to Obamacare's Medicaid expansion. He also said there isn't "anything in this bill that would lower premiums," and he won't vote for legislation that "takes insurance away from tens of millions of Americans." As New York's Ed Kilgore noted, it did not seem that Heller would be satisfied by tweaks that merely take longer to kick people off Medicaid:
… his bottom line seemed to be that any cancellation of the Medicaid expansion would be unacceptable to him unless another key feature of the bill, the per capita cap on Medicaid spending, is significantly relaxed. Other Senate "moderates" seem to be angling for a slower phase-out of the expansion and a slightly more liberal cap. Heller appears to be large steps away from that position, and explicitly said, "It's going to be very difficult to get me to a yes."
Susan Collins of Maine
Collins said she won't make a final decision on the bill until she sees a Congressional Budget Office score, which is expected early on Monday, but she said she has "very serious concerns."
Collins has repeatedly expressed concerns about the bill's cuts to Medicaid, and at one point she even said she wanted the GOP health bill to insure more people than Obamacare. Sunday on This Week, she said of getting to a "yes" vote:
It's certainly going to be very difficult. For my part, I'm very concerned about the cost of insurance for older people with serious chronic illnesses, and the impact of the Medicaid cuts on our state governments, the most vulnerable people in our society, and health care providers such as our rural hospitals and nursing home, most of whom are very dependent on the Medicaid program.
Collins and Senator Lisa Murkowski of Alaska are also opposed to the provision in the bill that would cut funding to Planned Parenthood for one year. They're expected to offer an amendment during the vote-a-rama to restore funding, but that would be a non-starter with many conservatives. Collins said it does not make sense to cut funding for Planned Parenthood. "There already are longstanding restrictions on the use of federal funds for abortion," she said. "Planned Parenthood is an important provider of health care services, including family planning and cancer screenings for millions of Americans, particularly women."
Bill Cassidy of Louisiana
Cassidy, a physician who crafted his own Obamacare reform bill with Collins, said on Sunday's Face the Nation that he hasn't decided how he'll vote, but small changes could win him over.
"There are things in this bill that adversely affect my state that are peculiar to my state," Cassidy said. "If those can be addressed, I will. If they can't be addressed, I won't. So right now, I am undecided."
The "Buffalo Bribe," which was added to the House bill to appease New York congressmen, is still present in the Senate version, so McConnell can't argue that he won't make state-specific deals.
Cassidy also complained that McConnell was pushing the bill too quickly, and urged the leadership to slow down.
"I, frankly, would like more days to consider this," he said. "That'll probably be a discussion coming back. I think a few more days to consider will be helpful."
Rob Portman and Other Moderate Republicans
Several other Republican senators who have expressed concerns about coverage losses in the past haven't said much publicly about the bill. Collins alluded to these colleagues on This Week, saying there are seven or eight senators who have been "meeting under the leadership of Senator Rob Portman to look at the Medicaid provisions" and "suffice it to say that they are certainly concerned."
"There are some promising changes to reduce premiums in the individual insurance market," Portman said in a statement. "But I continue to have real concerns about the Medicaid policies in this bill, especially those that impact drug treatment at a time when Ohio is facing an opioid epidemic."
Portman and West Virginia senator Shelley Moore Capito had requested $45 billion over a decade to help fight the opioid epidemic, but the bill only includes $2 billion in 2018.
When asked about the future of the Senate health bill, Collins said, "It's hard for me to see the bill passing this week. But that's up to the majority leader."