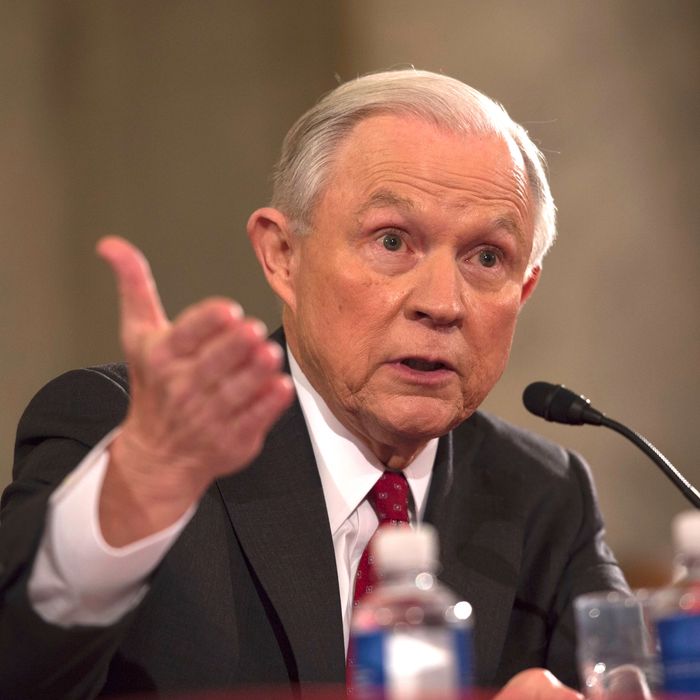 Sessions will undoubtedly have to answer some difficult questions under oath again.
Photo: Molly Riley/AFP/Getty Images
Attorney General Jeff Sessions has announced that he will appear before the Senate Intelligence Committee on Tuesday in order to address issues brought up by former FBI director James Comey's Senate testimony on Thursday. Sessions had already been scheduled to appear before the House and Senate Appropriations Subcommittees about the budget on Tuesday, but has opted to send Deputy Attorney General Rod Rosenstein to that hearing instead. The reason for the change, according to a letter that Sessions sent Senate Appropriations Subcommittee chair Richard Shelby on Saturday, was that he learned some members of that committee had announced that they would question him about the Justice Department's investigation into Russia's interference in the 2016 presidential election.
"In light of reports regarding Mr. Comey's recent testimony before the Senate Select Committee on Intelligence, it is important that I have an opportunity to address these matters in the appropriate forum," Sessions wrote, adding that the Senate Intelligence Committee "is the most appropriate forum for such matters, as it has been conducting an investigation and has access to relevant, classified information."
It's not yet clear if the Senate Intel hearing on Tuesday will be open or closed.
Sessions, who was a member of Donald Trump's presidential campaign last year, was forced to recuse himself from overseeing the Russia investigation in March after it emerged that he had twice met with Russian ambassador Sergey Kislyak last year despite having previously told lawmakers in January, under oath, that he hadn't had any contacts with Russians during the campaign. On Thursday, Comey testified that he had expected Sessions to recuse himself weeks before he actually did, explaining that the FBI was "aware of facts that I can't discuss in an open setting that would make his continued engagement in a Russia-related investigation problematic." Later that day, it was reported that Comey testified during a subsequent closed session that Sessions may have had a third undisclosed meeting with Kislyak, according to intercepts of Russian communications. The Senate Intelligence Committee then requested documents and an interview from Sessions, while Democratic lawmakers starting calling for Sessions to resign and/or be prosecuted for perjury — if the third meeting with Kislyak did indeed happen.
Two weeks ago, it was also reported that Sessions also neglected to disclose his meetings with Kislyak in his application for security clearance at the Justice Department, though a DOJ spokesperson later tried to explain that Sessions had been instructed not to list such meetings — if they happened as part of his normal activities as a senator.
Despite recusing himself from the Russia investigation, Sessions later participated in the firing of James Comey, a move which Trump eventually acknowledged was because of his unhappiness with Comey over the Russia investigation. It's still not clear exactly what role Sessions had in the firing, or the debate over the firing, but that is another issue which may come up at the hearing on Tuesday.
Also this past week, it was reported that Sessions's relationship with President Trump had soured to the point that Sessions had offered to resign if Trump no longer wanted him to serve as attorney general. Trump has reportedly remained furious with Sessions over his decision to recuse himself from the Russia investigation, especially since leadership of the investigation then fell to Rosenstein, who eventually appointed former FBI director Bob Mueller as a special prosecutor to take over the investigation last month.