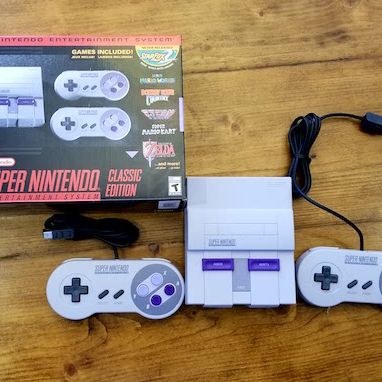 The SNES Classic system and two controllers.
We recently took a trip to check out Nintendo's upcoming lineup — Mario + Rabbids Kingdom Battle looks like it's gonna rule, and Mario Odyssey is going to be extremely fun and also have like 2,000 Amiibos. At the end, we got pulled into a separate conference room for a glimpse at what is gonna be one very hot item come this holiday season: the SNES Classic. Similar to last year's NES Classic, this will be a miniature version of the Super Nintendo console that comes preloaded with 21 games, pretty much every one of them a runaway winner.
Now, to be clear, we only got to see the SNES Classic, not actually fire it up and play any of the games. But just sitting down with the console for a few minutes shows that Nintendo learned from a few of its mistakes with the NES Classic, while still keeping a lot of the appeal. The system is a faithful reproduction of the original system — but it's now shrunk down to the point where you can easily palm the thing one-handed. It'll ship with two controllers — the main reason the SNES Classic will cost a bit more — and those controllers will, thank God, actually have a fair amount of cord length, about five feet long. This still may not be enough for people used to using wireless controllers, but that controller length is much more forgiving than the tiny NES Classic controller cords.
The controller themselves felt, at least to my muscle memory, like pretty accurate re-creations. The shoulder buttons still have some smooshiness to them, and the D-pad buttons also have that same feeling to a lesser degree. It feels a bit less crisp than modern gamepads, but I'd rather get something that feels like the original than an update. And one of my favorite bits from the NES Classic, where it emulated the scan lines from an old-school CRT television set, will also be making a return.
We quizzed them a bit about Star Fox 2, the unreleased game coming out with the SNES Classic. Star Fox 2 has been available in the form of fanmade ROMs, using leaked alpha and beta builds of the game, but per one of the game's original developers, nothing out there is actually close to the final version. Nintendo reps, taking pains to not acknowledge the existence of ROMs, simply said that this was Nintendo's official version of Star Fox 2. There's also this tweet from old-school video-game writer Frank Cifaldi:
Taken together, it's pretty safe to say that what you'll be playing on the SNES Classic, even if you may have somehow accidentally clicked a link that downloaded a ROM of a Star Fox 2, is going to be different from what you may have seen before. Hopefully, we'll get some time to actually play it before the SNES Classic hits store shelves, but the idea of a 22-year-old game suddenly getting a release in 2017 is still deeply weird and wonderful.
As for the SNES hitting store shelves, we got assurances that the SNES Classic would be stocked so that the shortage of the NES Classic, where it was basically impossible to find one outside of a few preorders and paying five times the price on eBay, wouldn't happen with the SNES Classic. That said, Nintendo has a history of setting conservative manufacturing goals, so if you really want one, get ready to slam that preorder button when it becomes available in the U.S. I know I'll be there, trying to secure my own chance to play through Super Mario RPG one more time. The system officially launches on September 29 for $79.99.