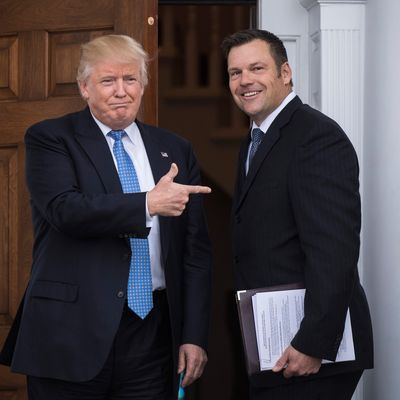 Trump and voter-fraud czar Kris Kobach.
Photo: Jabin Botsford/The Washington Post/Getty Images
President Trump's election-integrity commission is not off to a good start.
On Wednesday, Kansas secretary of State Kris Kobach, who serves as the commission's vice-chairman, wrote letters to all 50 states asking for publicly available voter data to help carry out its mission to "fully analyze vulnerabilities and issues related to voter registration and voting."
Almost immediately, officials from around the nation began telling him to get lost, which White House spokesperson Sarah Huckabee Sanders called a "political stunt."
Alex Padilla, California's secretary of State, said in a statement that he would not send the information because it would "only serve to legitimize the false and already debunked claims of massive voter fraud." As you may recall, this entire commission is little more than a fishing expedition for proof of Trump's claim that 3 to 5 million people voted illegally in the 2016 presidential election.
Virginia governor Terry McAuliffe and Kentucky secretary of State Alison Lundergan Grimes echoed Padilla's point, but took their criticism a step further, with both calling the commission a vehicle for "voter suppression."
A spokesperson for Vice-President Mike Pence, who is chairing the commission, took issue with that characterization, telling CBS News the request is simple fact-finding mission that is seeking "publicly available data."
But it's hard to fault Democrats for worrying about what might be done with that data if they hand it over, especially with Kobach involved. The man calls himself the "the ACLU's worst nightmare" and is probably the one American figure most closely associated with voter suppression.
Kobach has suggested in the past that collecting state voter rolls would be the first step in the effort to purge ineligible voters. Last month he told Tucker Carlson that comparing state voter rolls to federal databases to find, for example, green-card holders who are registered to vote, was one mission of the panel.
That idea has led to criticism from experts who say it could lead to mistakes that remove eligible voters from the rolls. Myrna Pérez of NYU Law School's Brennan Center for Justice told the Washington Post that the data may be "used to justify regressive and disenfranchising federal law."
Critics also point to previous studies showing that there just aren't that many noncitizens registered to vote in the U.S., making Trump's commission a complete waste of time and taxpayer money. Plus, registration of noncitizens isn't even the real issue. Voting by noncitizens is. And that's a problem that simply does not exist.
As Friday wore on and responses to Kobach's request continued to be made public, it quickly became clear that it wasn't just partisan Democrats shooting him down. To be sure, the most harshly worded denials came from Democrats in Kentucky, California, Minnesota, Massachusetts, and New York, where Governor Andrew Cuomo put out a statement that said:
New York refuses to perpetuate the myth voter fraud played a role in our election. We will not be complying with this request and I encourage the Election Commission to work on issues of vital importance to voters, including ballot access, rather than focus on debunked theories of voter fraud.
But there are plenty of Republican officials who are balking at Kobach's request. Most have agreed to turn over information that is publicly available while also expressing skepticism about the necessity of the panel's mission. Alabama secretary of State John Merrill, for one, said in a statement that he would only comply with Kobach's request if he's "convinced" that the work Trump's panel is doing won't compromise the "integrity of the voter rolls and the elections process in Alabama."
Merrill was joined by several Republicans who said the commission could have the publicly available information and nothing more. They include secretaries of State from Iowa, Ohio, and Indiana, home state of the commission's chairman, Mike Pence.