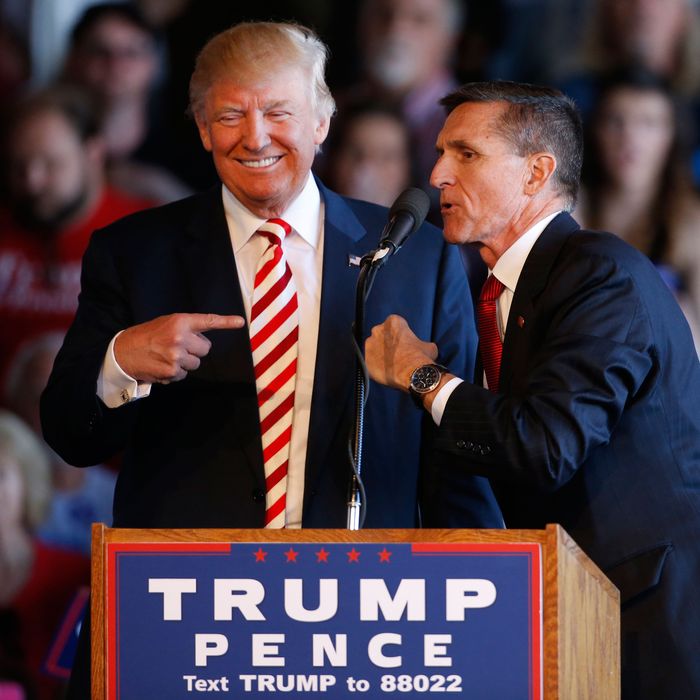 Donald Trump and former national security adviser Michael Flynn.
Photo: George Frey/Getty Images
One of the oddities of the investigation into Donald Trump's relations with Russia is the degree to which he has largely enjoyed a presumption of innocence in the court of public opinion. David Brooks, who has hardly taken a sympathetic line on the administration, wrote recently, "it is striking how little evidence there is that any underlying crime occurred — that there was any actual collusion between the Donald Trump campaign and the Russians." Mike Allen observed, "if Trump had kept Comey and stopped obsessing about his investigation, his legal troubles might have blown over: No evidence of collusion has emerged."
That line of defense is likely to disappear now that The Wall Street Journal has reported that Peter Smith, a Republican opposition researcher who said he was working for Michael Flynn, colluded with Russian hackers to try to obtain stolen emails from Hillary Clinton. The Journal reports that Smith referred to conversations with Flynn in emails with associates, and that U.S. intelligence has evidence of "Russian hackers discussing how to obtain emails from Mrs. Clinton's server and then transmit them to Mr. Flynn via an intermediary." The Trump defense does not inspire a lot of confidence. "A Trump campaign official said that Mr. Smith didn't work for the campaign," reports the Journal, "and that if Mr. Flynn coordinated with him in any way, it would have been in his capacity as a private individual." Obtaining hacked information from Russia for the campaign as a campaign staffer versus doing it as a private individual is a distinction without much difference.
Of course, the notion that there was no evidence of collusion before the Journal report has always been based on a tight definition of what constitutes evidence. It requires assuming that Trump's on-camera request for Russia to hack Clinton's emails during the campaign was a joke and that his confidante Roger Stone obtained advance knowledge of the timing of the WikiLeaks publication without any contact from Russia.
This is also not the first evidence of collusion between Russia and other Republican officials in the 2016 campaign. A relatively little-noticed Journal report from May found that Aaron Nevins, a Florida Republican operative, sought and received stolen Democratic voter-turnout files from Guccifer 2.0, a hacker believed by U.S. intelligence to be working for Russia. What's new is that explicit evidence of collusion may now extend to the Trump campaign itself.
To be sure, the collusion story could still peter out. But Trump collected an inner circle of people whose most striking characteristic was anomalously close relations with Moscow. Before taking a job as Trump's campaign director, Paul Manafort was paid $17 million by a Ukrainian party controlled by Moscow to run a pro-Russian political influence campaign. Foreign-policy adviser Carter Page has worked with a Russian oil firm, fervently defended Russian policy interests in a way very few Americans have, and was targeted for recruitment by Russian spies. Plus, of course, Flynn – for whom Smith allegedly sought the hacked emails — was paid $68,000 by Russian entities that he illegally failed to disclose.
Trump himself has refused to disclose his tax returns, but his son once boasted, "Russians make up a pretty disproportionate cross-section of a lot of our assets," and Trump has worked closely with Russian gangsters. (Timothy O'Brien reported last week on Trump's shady Russian mob-linked business associates.)
The other oddity is how little effort Trump has made to dispel the impression that he sees Russia as a partner. After the Senate passed a bill to cement into place sanctions against Russia, by a 97–2 vote, Trump lobbied the House to stymie or weaken the measure. Julian Borger in The Guardian reports today that Trump "has told White House aides to come up with possible concessions to offer as bargaining chips in his planned meeting next week with Vladimir Putin, according to two former officials familiar with the preparations."
That is odd, isn't it? Trump normally relies on aggressive negotiation and unrequited demands, and holds special disdain for giving anything of value without winning something in return. If The Guardian report is true, it is odd that he would break from this practice with Russia. Unless he believed Russia had some other leverage.