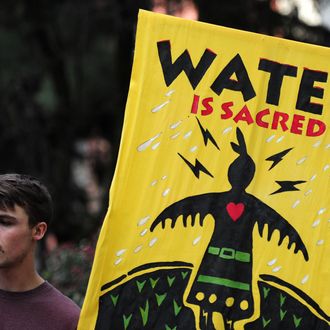 A man holds a "Water is Sacred" sign as protesters stand in solidarity with the "Native Nations Rise" march on Washington, D.C., against the construction of the Dakota Access Pipeline in Portland, Oregon, on March 10, 2017.
Photo: Anadolu Agency/Getty Images
On the same day that President Donald Trump pulled out of the landmark Paris climate deal, planet Earth was perhaps dealt another, quieter, blow: the Dakota Access Pipeline is now in service. The $3.8 billion pipeline — the focus of last year's mass protests led by the Standing Rock Sioux Tribe — started shipping oil on Thursday, Energy Transfer Partners, the pipeline operators, announced. The nearly 1,200-mile-long project will move crude oil from North Dakota to Illinois, where it will connect with the Energy Transfer Crude Oil Pipeline to transport the crude oil to the refineries on the Gulf Coast. Together, the system — dubbed the Bakken Pipeline — runs 1,872 miles, and will pump out about 520,000 barrels of crude oil per day.
A fully operational Dakota Access Pipeline was expected, as reviving its construction was one of Trump's first orders of presidential business. Yet litigation over the controversial project hasn't let up, and the Standing Rock Sioux Tribe and its backers are still battling in federal court to try to take the pipeline back offline. From the beginning, the Standing Rock and other Sioux tribes and environmentalists fought construction on the grounds that it would run through the tribe's scared lands, and threaten its clean water supply from Lake Oahe, a tributary of the Missouri River. Opponents are also questioning the federal government's decision-making process, and arguing that Trump's executive action violated the tribe's treaty rights.
Sioux leaders and environmentalists said the opening of the pipeline made their fight more urgent, and warned of the risk of potential leaks. According to the Associated Press, the DAPL has leaked three times — 100 gallons in North Dakota in two separate incidents in March, and 84 gallons in South Dakota in April — but no waterways were affected by the spills. Energy Transfer Partners has maintained from the start that it followed and met all environmental review procedures, and that the DAPL is more "cost-effective, safer, and more environmentally responsible" than other modes of transporting crude oil.