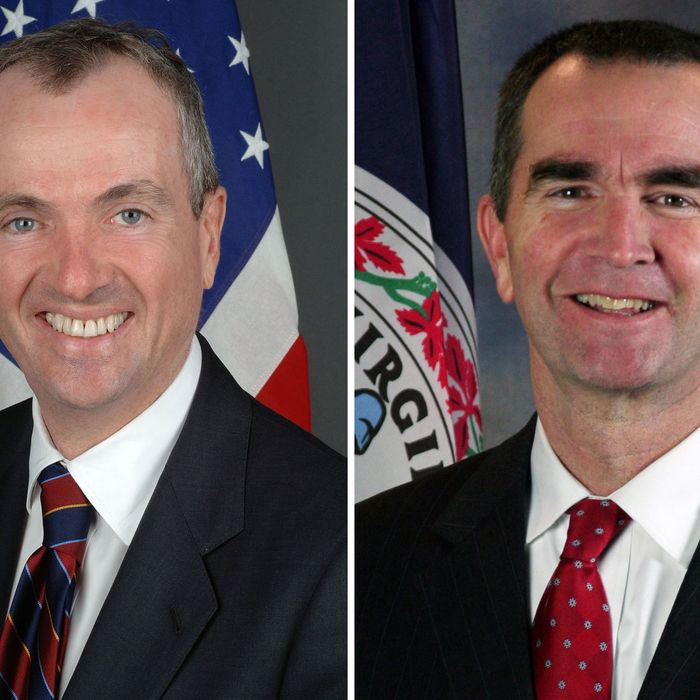 Democratic gubernatorial nominees Phil Murphy of New Jersey and Ralph Northam of Virginia are looking strong in 2017 general election campaigns.
Photo: US Department of State; Commonwealth of Virginia
The frustrating pattern of near-misses for Democrats in 2017 special congressional elections was distorted and exaggerated by the Tweeter-in-Chief, who crowed:
I guess this means he thinks the special election in the 34th District of California, a virtually all-Democratic affair won by Democrat Jimmy Gomez, produced a GOP winner too. That election did end a full two weeks ago, so maybe the president has just forgotten it.
In any event, many Democrats are undoubtedly wondering when the impressive anti-Trump passions of 2017 will produce a win in a nationally significant and competitive contest. The two remaining scheduled special elections this year are not very promising for the Donkey Party. The first, in November (assuming a battle over control of the special election between the governor and legislature is resolved) is in dark-red Utah, in the district of Representative Jason Chaffetz (who is resigning at the end of this month), the 16th-most Republican House district in the country according to the Cook Political Report. There are 15 Republicans, as compared to four Democrats, who are running for the Chaffetz seat at this point.
In December (after primaries in August and party runoffs in September), Alabama will hold a special election to formally choose a successor to Attorney General Jeff Sessions (Republican Luther Strange at least temporarily holds the seat he was appointed to by disgraced former governor Robert Bentley, who resigned shortly after filling the seat). There is a lot of intrigue around the crowded GOP primary for this seat, and potentially some divisive intra-Republican activity, but no one at this point is giving any Democrat a chance. Perhaps that could change if the infamous "Ten Commandments judge," Roy Moore, wins the GOP nomination. But Moore has won statewide as recently as 2012, which is something no Alabama Democrat can say. Democrats haven't held a U.S. Senate seat in Alabama in 20 years, since Howell Heflin was replaced by Jeff Sessions.
So more than likely Democrats looking for a boost going into the midterm-election year of 2018 will rely on their solid prospects in the two states holding regular gubernatorial elections in November, New Jersey and Virginia.
The Garden State contest looks like a very solid bet to break the Democratic losing streak. This remains a fundamentally Democratic state; Hillary Clinton handily defeated Donald Trump 55–41 there in 2016, and the state legislature has been under Democratic control since 2004. Democratic gubernatorial candidate Phil Murphy (a former ambassador to Germany and one of the remarkably large cast of former Goldman Sachs officials in politics these days) has money to burn and is fresh from an easy June 6 primary win over a large field. Republican Kim Guadagno won her primary pretty easily as well, but as lieutenant governor she is laboring in the large and dark shadow of Chris Christie.
According to a post-primary Quinnipiac poll, Christie's job-approval rating has dropped to an astounding 15 percent, the worst Quinnipiac has found in any state for any governor in the last 20 years. (Not that he cares.) Unsurprisingly, the same poll showed Murphy leading Guadagno by better than a two-to-one margin (55 percent to 26). The best news for the Republican is that half of voters don't know enough about her to have an opinion of her — though it is unclear where Guadagno will get the money or the credibility to convince them she's what the state needs.
In Virginia, the Gillespie/Northam campaign has just begun, but a new Quinnipiac poll shows Northam leading 47 percent to 39. Aside from a united party and the support of reasonably popular incumbent governor, Terry McAuliffe, Northam has history on his side: Nine of the last ten Virginia gubernatorial races were lost by the candidate from the party controlling the White House (McAuliffe, in fact, was the one exception). Things could change, but Donald Trump does not seem like the kind of president who will help his party buck that trend in a state he lost last year.
So Democrats who are wondering why they cannot have good things may only have to wait for a little less than five months for some validation.