It was a long time coming, but finally, the Hat trilogy is complete. After smash hit videos "Hat" and "Hat Again" tore through YouTube like a hurricane, "Hat 3" has finally hit the airwaves. If you don't know what I'm talking about (very surprising you don't know), the Hat Trilogy is the work of a YouTuber posting under the name Éirinn O'Kelly. In the first video, "Hat," he wore a wide sombrero; in the follow-up, a different sombrero.
According to the Daily Dot, O'Kelly's rise to fame is thank to Reddit's r/dankmemes subreddit and user Jacob Blackford, who brought the account hundreds of thousands of viewers and more than 15,000 subscribers by posting this meme.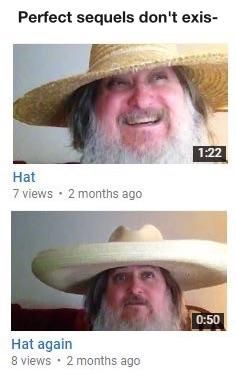 The first two hat videos were posted three months ago, and memes like Blackford's had people clamoring for a third, leading to the triumphant "Hat 3," in which he wore a Chicago Cubs hat.
In the interim between hats two and three, O'Kelly posted other hat videos, and has continued to post hat videos for his newfound fans. "Hat" is even on IMDb now.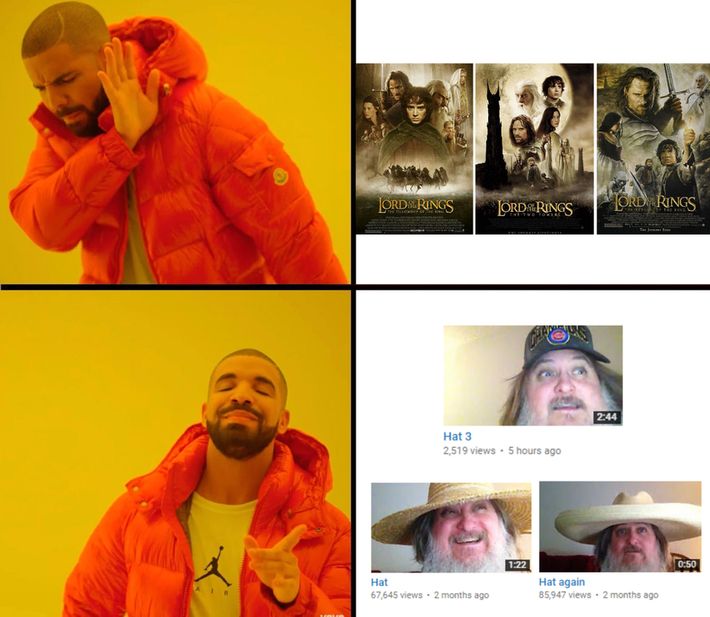 The hat aficionado's account was created in 2007, but started posting videos less than a year ago. It is unlikely that the man in the video is actually named Éirinn O'Kelly. The account's avatar is of a young woman posing with an Irish flag, and an associated Google+ account lists her as a model for Maxim (Éirinn is also a traditionally female name). Somehow, this guy got ahold of what appears to be a standard spam honeytrap account and has turned it into a headwear paradise. A message sent to an email address associated with the user has gone unreturned, but we'll update if we hear back. For now, just enjoy the hats.