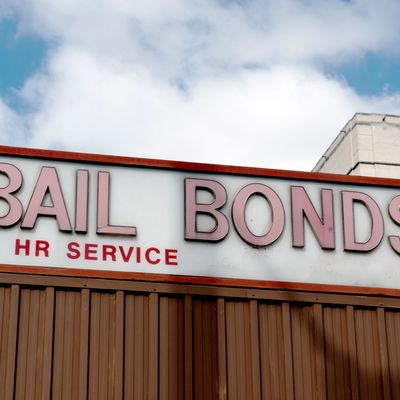 Photo: Paul Brady/Getty Images
On a rainy afternoon in April, I went to see a 71-year-old New Jersey bail bondsman named Ron Olszowy, who keeps a suburban office about 15 miles west of Manhattan, in an unassuming brick building that also houses legal and accounting practices. A former president of the Professional Bail Agents of the United States, the industry's premier trade association, Olszowy has been in business for more than 40 years and considers his work no less honorable than his neighbors'. But to his dismay, New Jersey law has recently been changed to reflect a contrary view, plunging him into the most difficult period of his career. As of January 1, monetary bail in the state has been all but outlawed, effectively rendering its several hundred licensed bondsmen unemployed. Since the beginning of the year, business at Olszowy's shop, Nationwide Bail Bonds, was off about 90 percent. When I arrived, I was greeted by his wife, Marge, who was heading to lunch, a yellow umbrella with a duck-head handle tucked beneath her arm. "It's sad when you work so hard your whole life for something," she said earnestly. "It's heartbreaking."
Among those who aren't bondsmen (or are married to them), the change in law has been widely celebrated. The old system, which had been on the books in one form or another since pre-Revolutionary days, required that bail be set for all felony defendants charged with sub-capital crimes. That was fairly standard. More than 40 states use a bail system, and many of them guarantee the right to bail in their constitution. Theoretically, this helps ensure the presumption of the innocence of the accused before trial. But in practice, compulsory bail can be doubly problematic. On one hand, courts can be forced to release dangerous defendants, as long as they can afford to pay. On the other, poor defendants charged with minor crimes often languish in cells, unable to muster even modest bails. To replace bail, New Jersey has introduced a risk-assessment rubric that incorporates the severity of a defendant's charges and the chances he will flee.
The headquarters of Nationwide Bail Bonds, Olszowy's company, bear a striking resemblance to a doctor's office: a windowed waiting room, a rack of crinkled magazines, walls hung with framed certificates. He is slight, with gray hair and twinkling blue eyes. He welcomed me with the warm manner of a seasoned Rotarian, wearing a loose-fitting suit and a French cuff shirt. "I'm not saying that some of them aren't poor," he said of his clients, settled in now behind his desk. "But it's just like anything else. If you go to the dry cleaner, if you need groceries — you have to pay for those things."
Like others in his field, Olszowy argues that bondsmen help preserve law and order — and that the new system doesn't. Throughout the 200-plus years that bail has been used, the U.S. justice system has relied on people like him to monitor defendants before trial and to shepherd them to court, sparing taxpayers the associated costs. (In the event a defendant fails to appear in court, the bondsman involved takes responsibility for his client's bail; he, in turn, is backed by an insurance company.) He hopes the law change will be reversed, but more likely, other states will follow New Jersey's lead. Already, Washington, D.C., and Maryland have adopted similar, though less progressive policies, and in February, lawmakers in Illinois introduced legislation that would do away with monetary bail there.
Olszowy got his start in bail bonds in the early 1970s. His father, Emil, who was then running the business — known at the time as Paramount Associates — ventured into local politics, eventually becoming a state assemblyman. Back then, mafia prominence in the tristate area made contact with organized crime difficult for the upwardly mobile bondsman to avoid, and Emil considered the dynamic unpromising. "Dad didn't want to be associated with mob guys," Olszowy recalled. "He thought they'd be asking him for favors." With no plans to run for office, the younger Olszowy didn't mind: "As long as it's not illegal, I'd help anyone." Over the years, bookies have made some of his best clients — "You've never seen a poor bookmaker" — and he's assisted more distinguished mafiosi, too, once writing a $2 million bond for the late Genovese capo Louis Gatto. (Bondsmen generally collect a fee equivalent to 10 percent of the bond.) Later, Olszowy got a call from Richard Kuklinski, the notorious contract killer known as the Iceman, who asked him to bail out a relative. He obliged, telling Kuklinski to consider his service "a professional courtesy."
If twin traditions of loyalty and recidivism helped make La Cosa Nostra an unusually rich source of referrals, Olszowy has also networked along more quotidian lines. The walls of his personal office are covered with framed photographs of him standing beside assorted notables — Gerald Ford, Lawrence Taylor, John Updike — at galas and conferences put on by professional, educational, and charity groups. During his heyday, he would, before arriving at his office in the morning, visit jails and police stations, leaving behind business cards, branded pens, and goodwill. Once, he succeeded in having a Nationwide Bail Bonds clock installed in the holding cell of a North Jersey jail.
After taking over for his father, Olszowy renamed the company, although without much deliberation. He knew only that he didn't want to be a "Speedy" or a "1-2-3" or an "ASAP" — tacky-sounding titles favored by the storefront bondsmen who cluster near jailhouses, like pawnbrokers around casinos. To his delight, though, "Nationwide" attracts many long-distance callers. Olszowy can usually connect them with a local bondsman, taking a cut for his trouble. The most famous of these was Amy Fisher, better known as the Long Island Lolita, for her 1992 shooting of the wife of her lover, Joey Buttafuoco — another $2 million bond. Interstate income, Olszowy says, plus what he makes on probate bonds — financial instruments related to the execution of wills — ought to sustain him. And while younger New Jersey bondsmen I talked to described pending career changes — plans to get into auto repossession, expand sidelines in private investigation, go back to school — Olszowy does not intend to retire. "I need people in my life," he said, indicating the subdued hum of his office, which seemed to have just one employee, down from ten. "I have pleasant surroundings. I like to talk on the phone. You can learn a lot from the sound of a person's voice."
Some of his favorite clients, he told me, had belonged to a fraternity of thieves, fraudsters, and fortunetellers affiliated with a self-styled "King of the Gypsies" — Steve "Two Bones" Mitchell. "If the King guaranteed 'em, they were there," he recalled, referring to their propensity for making court dates. He'd become friendly with the Mitchells. "Matter of fact, when Steve Mitchell died — there were cars from California, Oregon, New York, Pennsylvania, Connecticut, Massachusetts — the kids asked me, 'Ronnie, we're Catholic, but we don't have a church. Can you get us a church?' So I got 'em St. Clare's, where I go to church. They says, 'Ronnie, could you say a few nice words?' I said, 'You want me to eulogize 'em?' They said, 'Yeah — yeah, yeah, yeah, yeah.'"
So he did. But he couldn't remember when Mitchell had died. He called one of Mitchell's sons. "Bobby! How are ya?" he said. "I got a question for ya, when did your dad pass away, the King — '03?" The muffled voice of a man obviously pleased to hear from Olszowy came through the receiver. "They took bail away from us," Olszowy told him. "But I'm doin' okay." After hanging up, he read aloud from his computer screen the address in Elizabeth where Steve Mitchell had lived with his wife. "When people die that are in my contact list, if I like them, I don't delete 'em," he said.