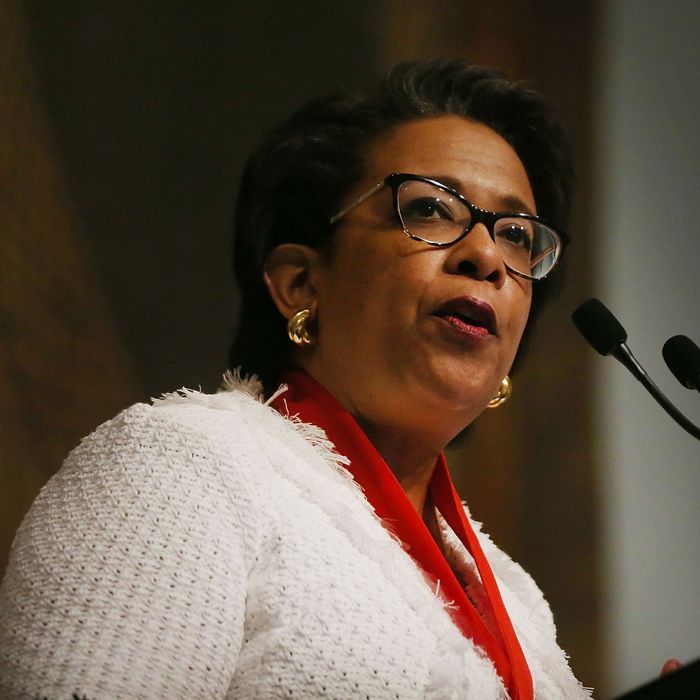 Loretta Lynch.
Photo: Spencer Platt/Getty Images
The Senate Judiciary Committee on Friday began looking into former attorney general Loretta Lynch and her reported desire to go easy on Hillary Clinton during the Justice Department's investigation into the former secretary of State's private email server.
In a letter to Lynch Friday, senators from both parties asked for information about an email that reportedly influenced former FBI director James Comey's decision to leave Lynch out of the loop when he announced the end of the Clinton email investigation.
The email, first reported by the New York Times, was supposedly sent by former DNC chair Debbie Wasserman Schultz to an official at George Soros's Open Society Foundations. It allegedly described a conversation between Lynch and Clinton campaign staffer Amanda Renteria that saw the attorney general promise not to "go too far" with the Clinton investigation.
Comey was reportedly worried that this letter could surface, compromising the integrity of the FBI's investigation into Clinton. That's why he cut Lynch out of the loop before deciding to announce the end of the email investigation. The determination that the email may have been doctored or completely fake did not change Comey's thinking.
Now, the Senate Judiciary Committee is asking Lynch, Renteria, and the Open Society Foundations for information on these communications. It's the first move in what committee chairman Senator Chuck Grassley said will be an investigation into the "alleged improper partisan interference in law enforcement investigations."