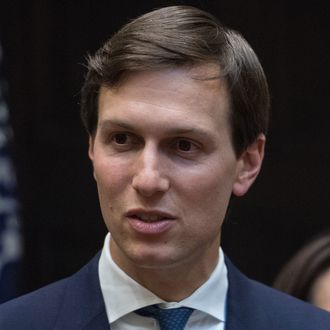 Photo: Nicholas Kamm/AFP/Getty Images
Realizing that it's easier to appear to work hard than it is to actually do anything, the White House is reportedly hosting another summit of tech leaders to talk about modernizing the government. According to Bloomberg, the talks will be led by Jared Kushner, who is squeezing the meeting in alongside being the subject of an FBI investigation and his effort to cultivate peace in the Middle East.
Planning to attend the June 19 meeting are Apple CEO Tim Cook, Amazon CEO Jeff Bezos, Microsoft CEO Satya Nadella, and Google executive chairman Eric Schmidt. Also in attendance will be Oracle CEO Safra Catz and IBM CEO Ginni Rometty. Catz and Rometty are slight outliers in political gatherings like this, because their organizations have, in various instances, either supported the Trump administration or refused to come out against its policies. The more consumer-oriented businesses have taken vocal stands against policies like Trump's executive order on immigration, including participating in lawsuits against it. Facebook has been invited, but has not yet RSVPed. The company is an H-1B-dependent employer; 15 percent of its workforce is reliant on the visas.
The summit will likely accomplish little, given the animosity of many of these companies toward the administration, and given the complete nothingburger that was a similar meeting held at Trump Tower in December. On the upside, maybe we'll get some more photos of tech leaders looking supremely uncomfortable.