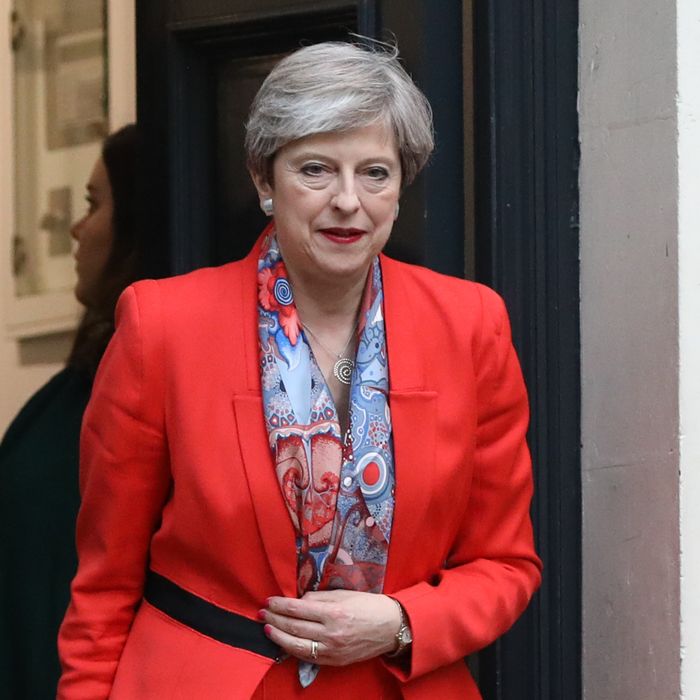 Theresa May exits Conservative Party campaign headquarters after an incredibly tough night.
Photo: Bloomberg/Bloomberg via Getty Images
In one of the most spectacular miscalculations in recent political memory, British Prime Minister Theresa May cost her Conservative Party its parliamentary majority by calling an election three years early. Despite predictions that May would score the biggest Tory landslide since the days of Margaret Thatcher, May now finds herself facing calls for her resignation. Plus, she's thrown plans for the U.K.'s withdrawal from the European Union into further disarray just 11 days before the start of Brexit talks.
The night's first shock came when an exit poll projected that Conservatives would win 314 seats in Parliament — significantly short of a 326-seat majority — while Labour would make gains to finish with 266 seats.
It took all night for the final tallies to come in (as of 8:30 a.m. local time four districts were still counting), but by Friday morning there was no way Conservatives could pick up a majority. While the Tories still came in first with 315 seats, they lost 12. Labour scored a huge win, gaining 31 seats to finish second with 261 seats. They were followed by the Scottish National Party, which finished with 35 seats, and the Liberal Democrats with 12 seats.
Hours before the magnitude of the Tories' loss was clear, far-left Labour Party leader Jeremy Corbyn called on May to step down. "She wanted a mandate," he said. "Well the mandate she's got is lost Conservative seats, lost votes, lost support and lost confidence. I would have thought that's enough to go, actually, and make way for a government that will be truly representative of all of the people of this country.
A short time later, May spoke in her district, where she managed to beat out "Lord Buckethead" and "Elmo."
"At this time, more than anything else this country needs a period of stability," May said. "If, as the indications have shown, and if this is correct that the Conservative Party has won the most seats and probably the most votes then it will be incumbent on us to ensure that we have that period of stability and that is exactly what we will do."
Many found the call for "a period of stability" deeply ironic, as May unsettled the political landscape by calling the snap election just to shore up her majority ahead of Brexit negotiations. Plus, May came to power because her predecessor, David Cameron, gambled on putting Brexit to a vote last year, only to be shocked when it actually passed.
Technically, May could remain prime minister. Northern Ireland's right-of-center Democratic Unionist Party, which has ten seats, said it would be willing to negotiate with the Conservatives to form a government. But Corbyn may also be able to cobble together a Labour-led progressive alliance with the Liberal Democrats, Scottish and Welsh nationalists, and others. It's unclear what alliances will emerge, and as the BBC explains, there's no official time limit for forming a government.
Politically, May's future is far less certain, even if the Tories form a government. Early on Friday morning Anna Soubry, a Tory member of parliament, said May should "consider her position."
"It was a dreadful campaign — and that's me being generous," Soubry told the BBC. When asked if May should resign, Soubry said, "It's bad. She's in a very difficult place."
Other Tories avoided the media as they huddled in private, but reports emerged that they're considering foreign secretary Boris Johnson to be the next prime minister.
Regardless of what happens next, the election was a big win for Corbyn. A year ago he was facing a revolt from his own MPs, and now he's proven he can run a successful campaign. In an interview on Friday morning, Corbyn refused to speculate about potential pacts with other parties, but he reiterated his call for May to resign, saying it's "pretty clear who won this election." He added that he is "ready to serve the country."
This post has been updated throughout.