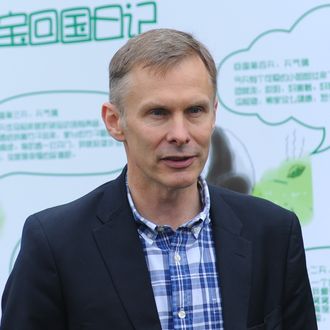 David Rank at the Dujiangyan base of the China Conservation and Research Center for Giant Pandas on March 24, 2017.
President Trump's decision last week to withdraw from the Paris climate accord was met with widespread condemnation, and two top CEOs — Tesla's Elon Musk and Disney's Robert Iger — resigned from White House advisory councils in protest.
Now the United States' top diplomat in China, charge d'affaires officer David Rank, has joined them. The acting U.S. ambassador to China said on Monday that he is resigning from his post in Beijing over Trump's plan to ditch the climate agreement. According to NBC News, Rank said in a speech to embassy staff that over the weekend he was asked to do something supporting a policy that as a "parent, patriot and a Christian" he could not do.
A State Department spokesperson confirmed that Rank is "retiring," saying, "Mr. Rank has made a personal decision. We appreciate his years of dedicated service to the State Department."
Rank joined the State Department in 1990 and has served in Greece, Mauritius, Taiwan, Shanghai, and Afghanistan. He assumed his current position in January 2016, and was acting as ambassador until Trump's nominee, Iowa governor Terry Branstad, is confirmed by Congress. He's expected to take up the post later this last month.
The American public is more aligned with Rank than President Trump. A new ABC News/Washington Post poll found Americans oppose Trump's decision to withdraw from the Paris accord by 59 to 28 percent. That's similar to the findings of a poll conducted in January, but since then the percentage who say they are in "strong" opposition to backing out of the climate deal rose 7 percent.