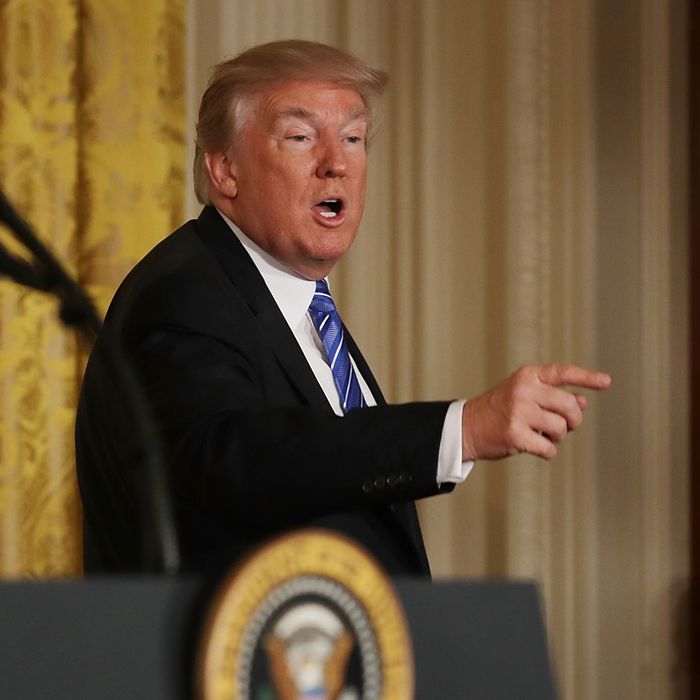 Give the president enough airtime, and he'll admit to almost anything.
Photo: Chip Somodevilla/Getty Images
President Trump has admitted that, as previously reported, he used the word "mean" to describe the House GOP's Trumpcare plan. In an interview with Fox and Friends' Pete Hegseth that aired Sunday, Trump acknowledged he had used the term by way of complaining that President Obama had stolen it to describe the Senate's latest version of the plan. Wrote Obama in a Facebook post published Thursday, "Simply put, if there's a chance you might get sick, get old, or start a family — this bill will do you harm. And small tweaks over the course of the next couple weeks, under the guise of making these bills easier to stomach, cannot change the fundamental meanness at the core of this legislation."
Hegseth asked Trump if there was anything he wanted to say to the former president in response, and Trump replied, "Well he used my term, 'mean.' That was my term because I want to see — and I speak from the heart. That's what I want to see. I want to see a bill with heart."
Earlier this month, it was reported that Trump told a group of Republican senators that the House's American Health Care Act — which Trump publicly celebrated the passage of with a large Rose Garden ceremony at the White House — was "mean, mean, mean," and that, "We need to be more generous, more kind." Asked about Trump's alleged comments last week, Speaker of the House Paul Ryan seemed to dispute the story, remarking that, "I think that was some kind of a misinterpretation of a private meeting," and that he's "spoken to the president many, many times," and Trump is "excited [about] what we did in the House."
Instead, once again, the president appears to have disqualified a GOP talking point — though it remains unclear what Trump actually meant from a policy perspective. It's also not clear why Trump, who has endorsed both the House and Senate versions of the plan, would allow himself to be filmed admitting the plan's meanness, either.