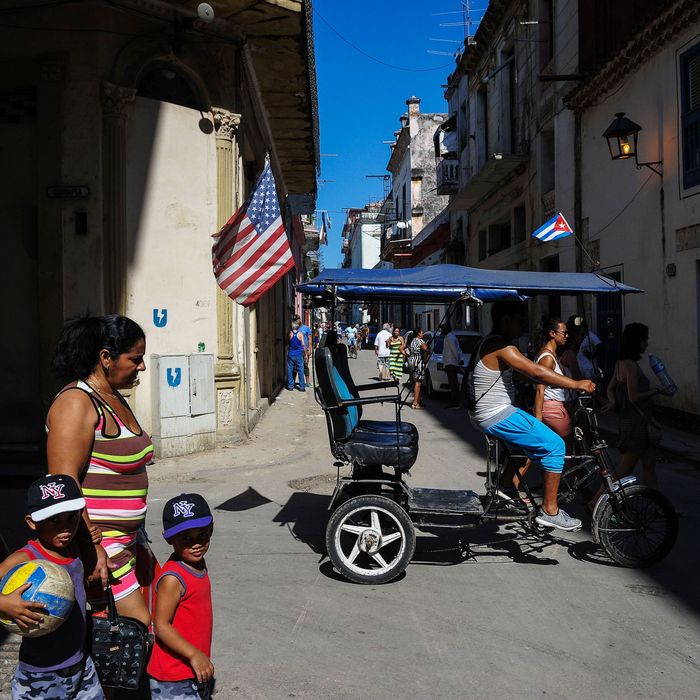 Havana.
Photo: YAMIL LAGE/AFP/Getty Images
President Trump on Friday announced the rollback of Obama-era changes to U.S. diplomatic and economic policy with Cuba, declaring the 2014 deal "terrible and misguided."
"Effectively immediately I am cancelling the last administration's completely one-sided deal with Cuba," Trump said. "We will enforce the ban on tourism, we will enforce the embargo. We'll take concrete steps to ensure that investments flow directly to the people so that they can open private business so that they can begin to build their country's great, great future."
The Trump administration policy will restrict so-called "people to people" travel to Cuba, which allows Americans to organize their own travel to the island as long as they spend time there engaging with Cubans and not just lounging on the beach. Critics have said the program is too easy to exploit. Under the new rules, travelers seeking "people-to-people" experiences will have to travel with a licensed tour company.
The new policy will also heavily restrict the ability of Americans to spend money at Cuba's military-controlled businesses, which include many of its hotels. "The profits from investment and tourism flow directly to the military. The regime takes the money and owns the industry. The outcome of the last administration's executive action has only been more repression and a move to crush the peaceful, democratic movement," Trump said.
Despite Trump's criticism of President Obama's 2014 Cuba deal, he is keeping large portions of it on the books. Diplomatic relations will remain intact and the U.S. embassy in Havana will remain open. Many American companies, such as Starwood Hotels Inc., will continue to do business in Cuba, while airlines and cruise ships will still travel there. Obama's loosened restrictions on how much rum and cigars Americans can bring home will remain in place too.
The goal of the changes, Trump said, is to put more money into the pockets of the Cuban people. But some of those people are not so sure that's what will happen. "It hurts to be going backwards. To roll back the engagement will only manage to isolate us from the world," Marta Deus, a business owner in Havana, told Reuters. "We need clients, business, we need the economy to move and by isolating Cuba, they will only manage to hurt many Cuban families and force companies to close."