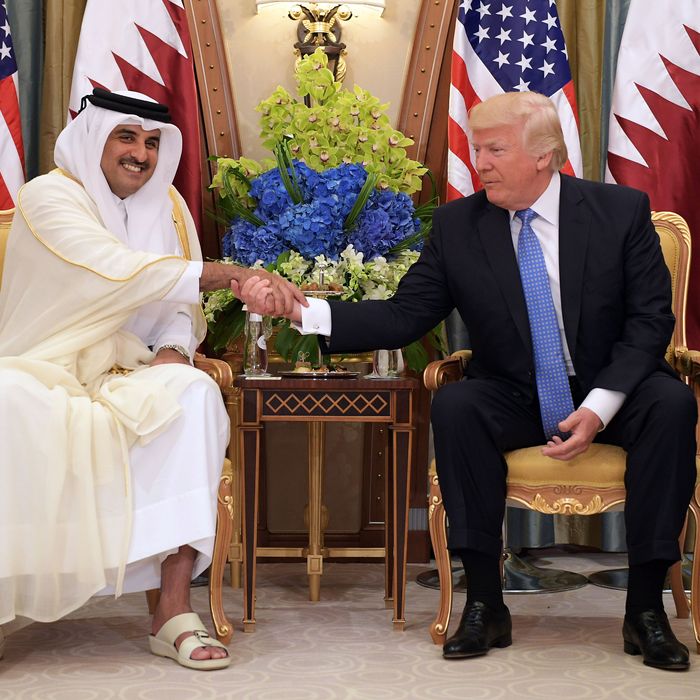 Trump and Qatar's Emir Sheikh Tamim Bin Hamad Al-Thani met in Riyadh in May, which the president possibly didn't recall earlier this week.
Photo: Mandel Ngan/AFP/Getty Images
Earlier this week, President Donald Trump fired off a series of strange tweets. No, not those — these:
His statements were apparently in response to the action of Saudi Arabia and other Sunni Arab nations, which abruptly cut diplomatic ties with Qatar this week. Led by Riyadh, the countries have accused Qatar of simultaneously supporting terrorist organizations, including the Muslim Brotherhood and ISIS, and of keeping too-close ties with Iran. But the United States itself relies on Qatar's Al Udeid base to conduct air operations in Syria and other parts of the region; Trump's statements — if not directly jeopardizing that relationship — certainly made things extremely awkward, leaving the Pentagon and the State Department, led by Secretary Rex Tillerson, scrambling to smooth things over, reports the New York Times. And it's especially troublesome because Trump might not have even been aware the U.S. and its allies staged anti-ISIS operations from Qatar:
On Wednesday, Tillerson helped mediate a call between Trump and Sheikh Tamim bin Hamad Al-Thani, the emir of Qatar, where the president reportedly urged the Qataris to give up its financing of Sunni extremist groups. The president also reportedly offered to broker a deal between Qatar and the protesting nations at the White House — an offer the emir rejected as long as what the Qataris are characterizing as a blockade by their neighbors continues, a source told Reuters. Trump also emphasized "unity" in the Gulf during a phone call with Saudi King Salman bin Abdulaziz Al-Saud, and did the same with the crown prince of the United Arab Emirates, one of the countries that also isolated Qatar.
And as of Thursday, the standoff continues — despite Trump's (belated) attempts at intervention. Instead, Qatar appears to be digging in its heels, refusing to give in to the pressure to change its foreign policy, and rejecting accusations that it funds terror groups. Iran and Turkey have also bolstered the tiny Gulf state in the dispute. Both offered to supply food, initially a major concern as the the blockade closed off land, sea, and air access to the import-dependent Qatar. Turkey also approved a measure to send more troops its army base there, and another to conduct joint military exercises with Qatar.