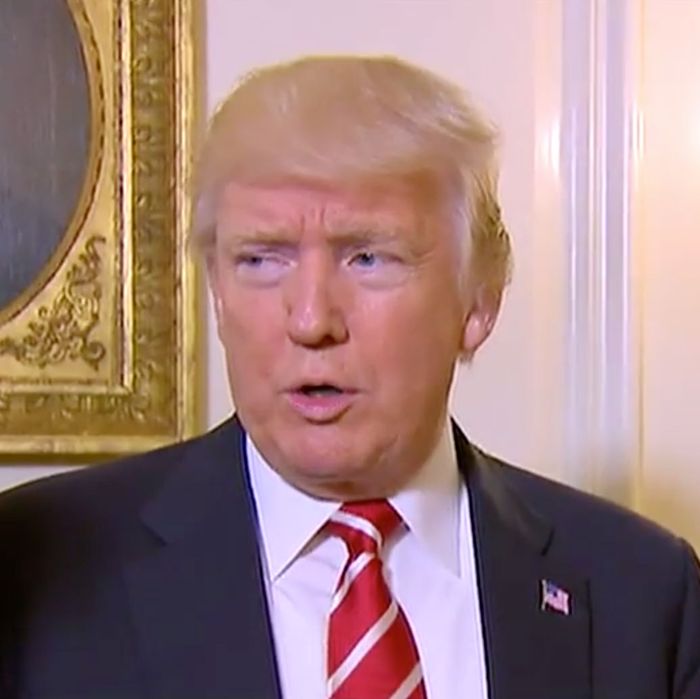 "I don't have any tape."
Photo: Fox News
If President Trump has "no intention" of firing special counsel Robert Mueller, as the White House insisted last week, he sure has a funny way of showing it.
In an interview with Fox News that aired Friday, Trump said Mueller is "very, very good friends with Comey, which is very bothersome." Responding to a question about whether Mueller should recuse himself from the Russia probe he's currently leading, Trump said, "We're going to have to see."
Fox News' Ainsley Earhardt also teed up Trump to complain about Mueller's team, which includes several lawyers who have given money to Democrats and one who represented the Clinton Foundation in a racketeering lawsuit brought by Larry Klayman, the Clinton-trolling head of Freedom Watch.
"The people that have been hired are all Hillary Clinton supporters," Trump said. "Some of them worked for Hillary Clinton. The whole thing is ridiculous, if you want to know the truth, from that standpoint."
Perhaps sensing that he was showing his cards, Trump added a compliment for the special counsel. "Robert Mueller is an honorable man and hopefully he'll come up with an honorable solution," he said.
The President also addressed the nonexistent tapes of his conversations with Comey. Thursday he admitted that the tapes don't exist. He reiterated that in the interview — "I didn't tape, and I don't have any tape, and I didn't tape." — but added that he concocted the ruse to keep Comey honest. And he thinks it worked.
"When he found out that I, you know, that there may be tapes out there —whether it's governmental tapes or anything else and who knows — I think his story may have changed," Trump said. "You'll have to take a look at that because then he has to tell what actually took place at the events. My story didn't change  —  my story was always a straight story, my story always was the truth. But you'll have to determine for yourself whether or not his story changed, but I did not tape."
Earhardt then complimented Trump, saying the ruse was "a smart way to make sure [Comey] stayed honest during those hearings."
"It wasn't very stupid, I can tell you that," Trump said. "He did admit that what I said was right. And if you look further back before he heard about that, I think maybe he wasn't admitting that."
And with that, Trump can add "witness intimidation" to the ever-growing list of crimes he's being accused of committing in his short five months in office.