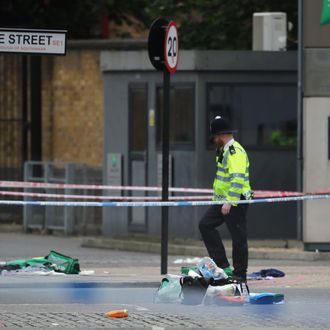 Photo: Christopher Furlong/Getty Images
With Britain was still dealing with the immediate aftermath of Saturday's deadly terrorist attack, President Donald Trump took the opportunity to complain about political correctness, gun control, and London mayor Sadiq Khan.
Trump's initial response to the incident consisted of retweeting unconfirmed information from Drudge, touting his court-blocked travel ban, and — in his only nod to typical presidential behavior — offering to "help out in London and the U.K." On Sunday morning, he returned to Twitter with these reflections on the attack, during which three men drove a van into pedestrians on the London Bridge before stabbing people in Borough Market:
In addition to stoking fear of a terrorist attack in the United States and apparently not grasping that the assailants would have done more harm had they been armed with guns, Trump took Khan's words out of context. The quotation came from this comment by Khan to the BBC: "My message to Londoners and visitors to our great city is to be calm and vigilant today. You will see an increased police presence today, including armed officers and uniformed officers. There is no reason to be alarmed by this."
Khan's spokesperson responded to Trump with a statement saying that the mayor didn't have time to get into it:

Trump wasn't the only person in the White House trying to start a Twitter fight with Khan. Also on Sunday morning, social-media director Dan Scavino tweeted this barely coherent message:
Meanwhile, in London, U.K. prime minister Theresa May, who is facing parliamentary elections later this week, said, "Everybody needs to go about their lives as they normally would. Our society should continue to function in accordance with our values." But, she added, "When it comes to taking on extremism and terrorism, things need to change." British authorities have yet to identify the attackers, but the BBC reports that the police arrested 12 people at a home that belonged to one of the men.