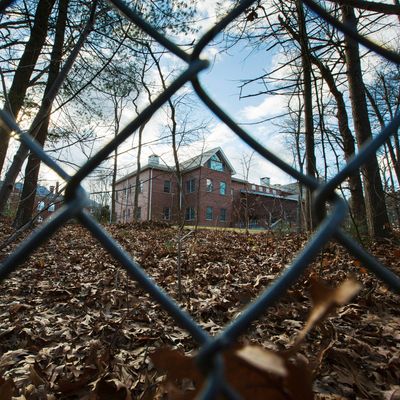 Upper Brookville, the former Russian compound in Oyster Bay, New York.
Photo: Alexander F. Yuan/AP
Reports that Trump adviser/son-in-law Jared Kushner pursued a secret back channel with the Kremlin dominated the headlines over Memorial Day weekend. Then on Wednesday the House Intelligence Committee issued subpoenas to two of Trump's close associates, his longtime personal lawyer Michael Cohen and former national security adviser Michael Flynn. A few hours later, CNN reported that congressional investigators are looking into whether Attorney General Jeff Sessions may have had an additional private meeting with Russian ambassador Sergey Kislyak that he failed to disclose.
Meanwhile, the Trump administration is moving toward returning Russia's two diplomatic compounds in the U.S., according to the Washington Post. Back in December, Russian officials were given 24 hours to vacate the compounds on Long Island, New York, and Maryland's Eastern Shore as punishment for Moscow's alleged election meddling. President Barack Obama said at the time that the facilities were being "used by Russian personnel for intelligence-related purposes."
Russia claims the compounds were merely places where its diplomats could relax and hold events, though U.S. officials have suspected they were also used for intelligence purposes since the '80s. The compounds had diplomatic immunity, but that may be revoked if they're returned by the Trump administration.
In response to the report, R.C. Hammond, senior communications adviser for the State Department, said, "The U.S. and Russia have reached no agreements." Officials from the two countries will meet again in June in Saint Petersburg.
Per the Post, returning the facilities came up during a meeting between a State Department official and his Russian counterpart in New York. When the U.S. official suggested a compromise, the Russian balked:
Early last month, the Trump administration told the Russians that it would consider turning the properties back over to them if Moscow would lift its freeze, imposed in 2014 in retaliation for U.S. sanctions related to Ukraine, on construction of a new U.S. consulate on a certain parcel of land in St. Petersburg.

Two days later, the U.S. position changed. Secretary of State Rex Tillerson told Russian Foreign Minister Sergei Lavrov and Russian Ambassador Sergey Kislyak at a meeting in Washington that the United States had dropped any linkage between the compounds and the consulate, according to several people with knowledge of the exchanges.
No explanation was given for the change in position, but the timing is sure to raise questions. The diplomats met on May 8. Trump fired FBI Director James Comey the following day. On May 10 Tillerson escorted Lavrov and Kislyak to the Oval Office for a meeting with President Trump. He reportedly told the Russians, "I faced great pressure because of Russia. That's taken off."
If Trump does decide to return the Russian facilities, it would send a clear signal that he doesn't care if people think he's under Russia's influence. That could be seen as evidence that Trump is so beholden to Russia that the political cost doesn't matter.
It could also mean he's confident that there's nothing to the Russia story, and won't let it get in the way of improving a key diplomatic relationship. A senior U.S. official who works on foreign policy told NBC News that if the report is true, it could be merely a gesture of goodwill — though he thinks it's a "really bad idea."
Or perhaps Trump officials just couldn't pass up an opportunity to reverse a policy implemented by President Obama. "We had no intention of ever giving them back," said a former senior Obama official.