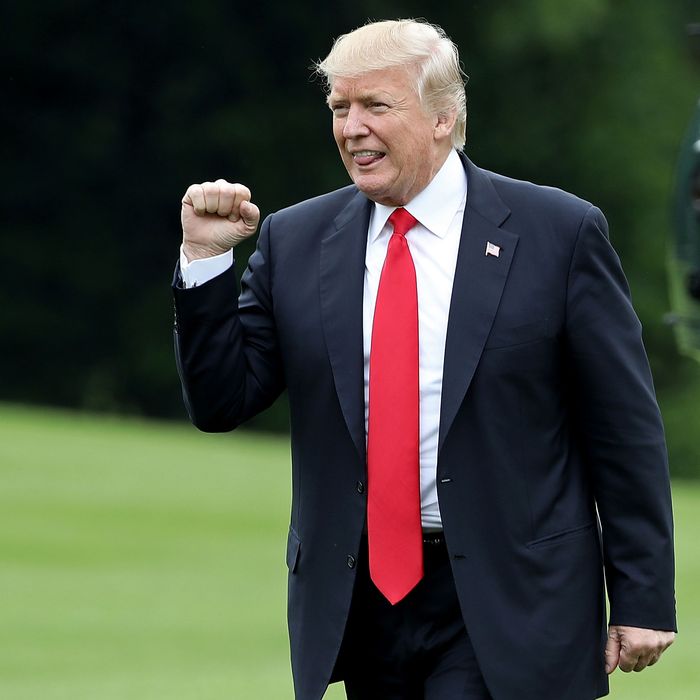 Innocent as sin.
Photo: Win McNamee/Getty Images
On Wednesday, James Comey submitted written testimony about his interactions with Donald Trump to the Senate Intelligence Committee.
In Comey's account, Trump asked his FBI director to pledge personal loyalty to him — and, then, to demonstrate that loyalty by dropping the bureau's investigation into Michael Flynn.
Legal analysts are nearly unanimous in seeing these actions as profound assaults on the FBI's independence from the Executive branch — and, thus, on the rule of law in the United States. A significant number of such analysts also believe that Comey's testimony establishes that Trump is guilty of obstruction of justice.
Last month, the White House claimed that Trump had never asked Comey to pledge loyalty to him, insisting, "the president wants loyalty to this country and to the rule of law."
Days later, Trump flatly denied that he had ever urged Comey to back off the investigation of Flynn.
Hours after Comey's testimony was made public, the president's lawyer announced that he felt "completely and totally vindicated."
In his testimony, Comey does note that he told the president, three times, that he was not personally under investigation, as Trump had previously claimed. However, the FBI director also stipulates that he wasn't comfortable publicly exonerating the president, for fear that he would be forced to correct the record, should the bureau's investigation take a new direction.