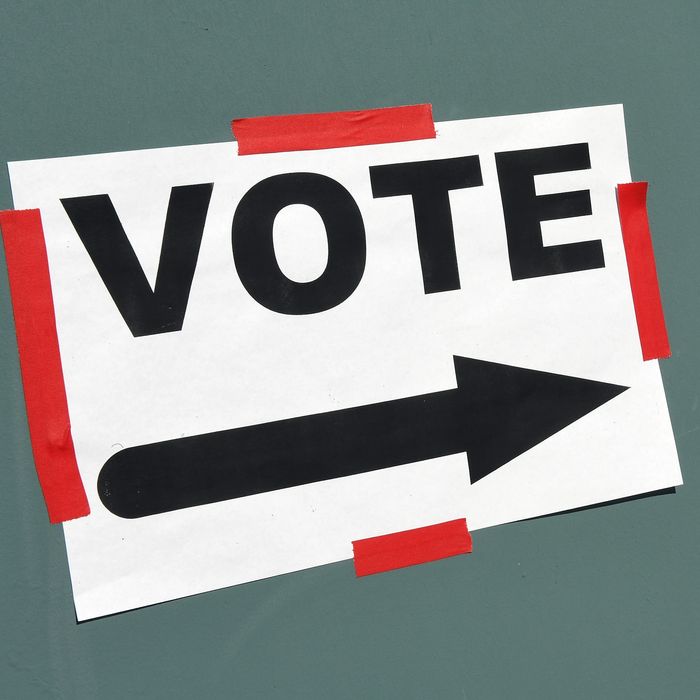 While the Russia investigation focuses on last year's election, it's not at all clear that the Trump administration much cares about the security of the next one.
Photo: Ethan Miller/Getty Images
The Trump administration has done little to prepare for, or prevent, future election hacking like the kind that occurred during last year's presidential campaign, an investigation by NBC News has learned. Experts and government officials at the state and federal level report that the U.S. government is woefully unprepared for future attacks — like one on the 2018 midterms — citing both indifference from President Trump and others in the White House, as well as the Trump administration's failure to properly staff federal agencies responsible for dealing with such threats, like the Department of Homeland Security.
As far as what can be done to better protect American elections, the report outlined how "the Russian campaign to disrupt the 2016 election involved at least three tiers:"
The promotion of false stories through social media; the hacking and leaking of embarrassing material from political campaigns; and the cyber intrusions into state voter registration and election databases that could have — but didn't — cause major disruptions at polling places around the country.




Each of those three attack vectors requires different defenses, experts say. On the fake news front, the government would need to coordinate with tech companies to slow the flow of false information. In terms of Russian intelligence hacking and leaking, experts say Vladimir Putin needs to be shown that he will incur a high cost if that tactic is repeated. And state election systems need to be better armored against cyber attack, and fully equipped to audit the vote if a successful attack occurs.
But there is little indication that the Trump administration has done anything to bolster those defenses, according to the experts. Regarding the punishing of the Putin regime, this past week, Speaker of the House Paul Ryan stalled a Senate plan to pass additional Trump-proof sanctions on Russian officials in retaliation for last year's election meddling — though, there are several complicating factors surrounding that plan. The Trump administration already opposes that bill, and it has apparently made no efforts to design or implement any kind of response to Russia's election interference otherwise. In addition, state officials say that there has been little guidance from the Department of Homeland Security and no major initiative from the White House regarding the security of their election infrastructure and that numerous jobs across all federal agencies remain unfilled by the Trump administration, including at the DHS.
One White House official offered a characteristically Trumpian response to the report, insisting the administration is hard at work on the problem, but when it comes to showing that work, "some [measures] you'll see, some you won't see," since "You certainly don't want to telegraph your moves." The White House also says they're going to write a letter to state and municipal authorities next week asking them to submit data for an election-fraud commission, but that likely relates to the commission Trump ordered after he falsely claimed that as many as 5 million people had voted illegally in last year's election. As originally conceived, that commission had nothing to do with Russia or the election meddling and was much more likely related to the president's desire to dismiss his embarrassing loss of the popular vote than it was to ensure the protection of future elections. That being said, this week some members of the commission indicated that they now want to look at Russia's attempted hacks as part of their inquiry, but seem to have come to that conclusion independent of the White House.
NBC says the White House also cited the executive order Trump signed last month to improve the nation's cybersecurity as evidence of their efforts to protect future elections, but that order just outlined what was essentially a continuation of the Obama administration's policies regarding the country's cybersecurity — and made no reference to Russia's election interference. On top of that, Trump's executive orders have hardly constituted actual action in most cases thus far, but rather directives for action.
As for Trump himself, former FBI director James Comey testified before Congress that the president never expressed any interest in what could be done to prevent future election interference by Russia. The president has also repeatedly sought to downplay or dismiss the reports of Russia's election meddling, suggesting, without offering any evidence, that a "400-pound hacker" or the Chinese government may have been responsible instead. But though Trump has been ever-reluctant to acknowledge Russia's interference in the election, he managed to do so on Friday, but only in an attempt to blame his predecessor for failing to prevent it:
And the stakes couldn't be higher. One former intelligence official in the Obama administration, Michael Vickers, told NBC News that the Russian election hack was "the political equivalent of 9/11" and warned that "the Russians will definitely be back, given the success they had" last year; he hasn't seen much evidence, however, that the Trump administration is taking the threat seriously.