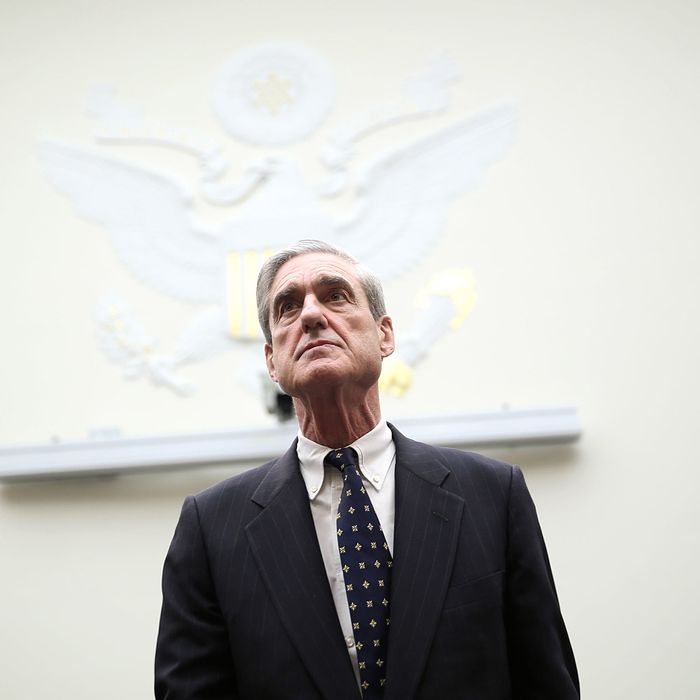 Robert Mueller.
Photo: Alex Wong/Getty Images
Last week, Donald Trump declared himself "vindicated," after James Comey testified that the president was never under federal investigation during his time at the FBI.
Unfortunately for Trump, that seems to have changed shortly after he treated Comey to his signature catchphrase: Anonymous officials are telling the Washington Post that special counsel Robert Mueller is examining whether the president's conduct toward Comey constituted obstruction of justice.
As part of that inquiry, Mueller is looking to speak with senior intelligence officials about their interactions with Trump:
Five people briefed on the requests, who spoke on condition of anonymity because they were not authorized to discuss the matter publicly, said Daniel Coats, the current director of national intelligence, Adm. Mike Rogers, head of the National Security Agency, and Rogers' recently departed deputy, Richard Ledgett, agreed to be interviewed by Mueller's investigators as early as this week.

… The officials said Coats, Rogers and Ledgett would appear voluntarily, though it remains unclear whether they will describe in full their conversations with Trump and other top officials, or will be directed by the White House to invoke executive privilege. It is doubtful the White House could ultimately use executive privilege to try to block them from speaking to Mueller's investigators. Experts point out that the Supreme Court ruled during the Watergate scandal that officials cannot use privilege to withhold evidence in criminal prosecutions.
Coats reportedly told associates that Trump had asked him to encourage Comey to drop the FBI's investigation into former national security adviser Michael Flynn. At a Senate hearing last week, Coats refused to confirm or deny such reports.
At last week's hearing, Comey suggested that he believed Trump was plausibly guilty of obstruction of justice.
"It's my judgment that I was fired because of the Russia investigation," Comey said. "I was fired, in some way, to change — or the endeavor was to change the way the Russia investigation was being conducted."
The president has endorsed this explanation of Comey's firing on national television.
On Monday, Trump confidant Chris Ruddy said that the president was thinking of firing Robert Mueller. While the president retains the legal right to do that, he does not have a legal right to fire Mueller so as to obstruct an investigation into his alleged obstruction of justice.
But then, in practice, Trump likely has a legal right to do anything congressional Republicans allow him to. As the Post notes, "the Justice Department has long held that it would not be appropriate to indict a sitting president."