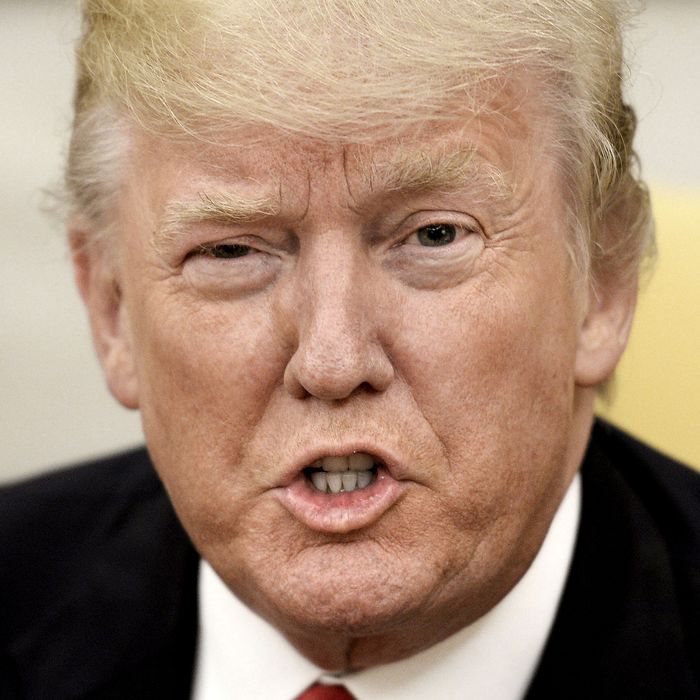 Can't stop, won't stop.
Photo: Olivier Douliery - Pool/Getty Images
One month ago, President Trump happened upon a surefire idea for quelling media interest in his campaign's alleged Russia ties: Abruptly fire the FBI director leading the investigation into those ties, on the eve of an Oval Office meeting with Russia's foreign minister.
This proved to be a mistake.
Amid the ensuing firestorm, Trump devised a foolproof scheme for rectifying the White House's messaging failures: Go on national television, contradict the administration's narrative about the why Comey was let go, and confess to firing the FBI director so as to impede the Russia investigation.
This did not work out as intended.
Months earlier, Trump had decided that a great way to nip the Russia investigation in the bud would be to demand that James Comey pledge personal loyalty to him. But now that Trump had fired, humiliated, and publicly insulted Comey, the FBI director's associates started blabbing to major newspapers about the president's illicit proposal.
Fortunately, Trump knew exactly how to get those traitors to shut their mouths: Threaten to release secret recordings of his conversations with Comey over Twitter.
In hindsight, this proved to be unwise: According to the New York Times' Michael Schmidt, Trump's threat "motivated some of the folks that I was talking to … and led to them talking about how Trump told Comey to end the Flynn investigation."
That disclosure led to the appointment of a special prosecutor — and to an invitation for Comey to publicly testify about Trump's actions before the Senate Intelligence Committee this Thursday.
Meanwhile, Trump's myriad misjudgments throughout the Comey saga made it impossible to attract talent to the White House's new "war room" for crisis communications.
Happily, the president now has a rock-solid idea for containing the fallout from Comey's testimony without a team of top-shelf legal and public relations talent:
What could go wrong?
To be fair, Trump also plans to huddle with two of the intelligence committee's top Republicans on the hearing's eve.
The president will also spend a portion of the hearing addressing the Faith & Freedom Coalition's "Road to Majority Conference," where he will presumably talk about how no prophet in history has ever been treated worse than Donald Trump.
Alternatively, Trump may simply stand silent at the podium, while typing, James Comey better hope there was no "polonium" in his coffee before he starts leaking to the Senate into his Twitter app.