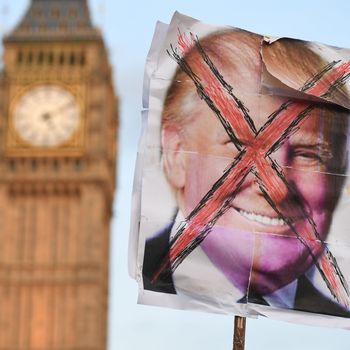 Trump's tweets haven't landed so well across the pond.
Photo: Justin Tallis/AFP/Getty Images
President Trump may postpone or outright cancel his plan to travel to the U.K. this year, citing concerns about his unpopularity in the country. The Guardian reports that Trump recently told U.K. prime minister Theresa May that he did not want to go ahead with the trip if his visit would be met with large-scale protests. Elsewhere, the New York Times reports that Trump's skepticism about the trip is, in part, because of the intense backlash to his Twitter-sniping at London mayor Sadiq Khan following the recent terrorist attack that struck the city.
Both May's office and the White House denied on Sunday that there has been any change in the plans for Trump's visit, or that the president's reluctance came up in the call reported by The Guardian. However, the visit, which Trump was officially invited to make by the prime minister (and Queen Elizabeth) following his inauguration, has already been postponed at least twice, and no real planning appears to have ever been done for it in the first place. The Times also reports that Trump has told his staff that he doesn't want to go on another long overseas trip, and would prefer that foreign leaders come visit him in the U.S., rather than Trump go to them.
News that President Trump could be further delaying or cancelling the visit will be welcome news to many in the U.K. Opinion polls have indicated that he is deeply unpopular there, and that as many as two thirds of Britons believe Trump represents a threat to global stability. As a result, some lawmakers have criticized the plan to allow Trump the pomp and circumstance of an official state visit, and some groups have promised to stage large protests if he comes.
Trump's response to the terrorist attack in London on June 3, which left eight dead and almost 50 injured, hasn't improved Britons' feelings about him either. In the days following the ISIS-linked attack, Trump published a pair of indefensible tweets criticizing Mayor Khan in an extraordinarily misleading way over a statement Khan had made trying to calm the fears of Londoners. Trump's remarks were just the latest dust-up between him and Khan, who is London's first Muslim mayor. Khan has repeatedly criticized Trump's Islamophobia, and the president has called Khan "rude" and "ignorant" in response. After the new volley of tweets last week, Khan eventually implied that the president's state visit should be cancelled. For her part, Prime Minister May declined to criticize Trump over his comments about Khan, opting to praise the mayor instead. Her nearly victorious opponent in last week's shocking general election, Labour Party leader Jeremy Corbyn, took a different tack on Sunday: