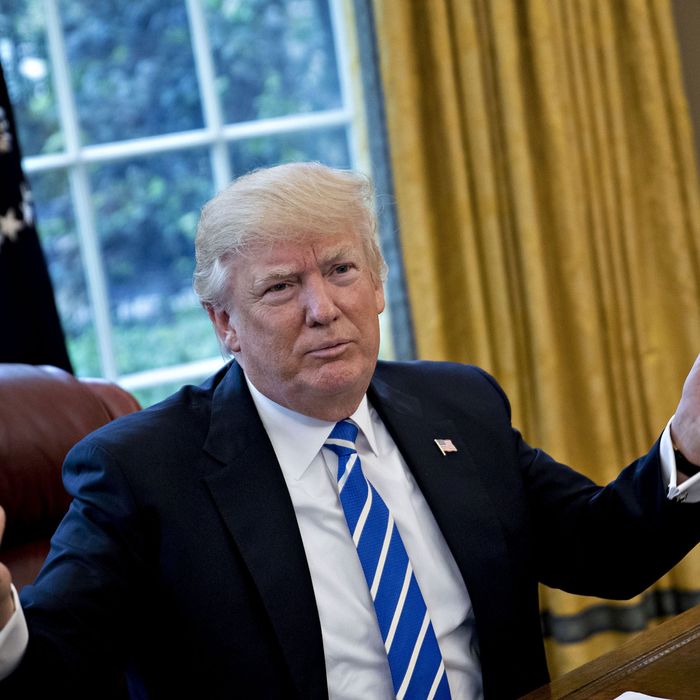 Photo: Andrew Harrer/Bloomberg via Getty Images
Last month, President Trump held a big Rose Garden celebration marking the House's passage of the profoundly unpopular American Health Care Act. As Paul Ryan smiled ghoulishly behind him, Trump called the bill, which would take insurance away from at least 23 million people, a "great" and "very incredibly well-crafted" plan, expressing confidence that "we're going to get this passed through the Senate." Since then, Senate Republicans have been working on the legislation in almost total secrecy — a clear indication that their version won't be significantly less vicious than the House's. (Recently asked why the GOP refused to release a draft of the bill, an aide explained, "We aren't stupid.") Now, with the Republicans reportedly pushing for a vote in the next few weeks, Trump seems to have changed his mind about the quality of the legislation.
The New York Times and the AP report that Trump surprised a Tuesday meeting of 15 GOP senators by calling the House bill he once praised "mean, mean, mean." (According to an AP source, he also used a mysterious "vulgarity" to describe it.) He went on to tell the senators, "We need to be more generous, more kind." People who were in the room said that it was "unclear" what, exactly, the president was referring to (given what we know about his understanding of health care, he likely wasn't sure himself), and it seems that they might not bother to find out. Per the Times, "Senators, who are growing increasingly indifferent to Mr. Trump's policy interests, did not seem moved by his entreaties." It's probably easy to tune out that kind of noise when you're this close to hundreds of billions of dollars of tax cuts for the rich.