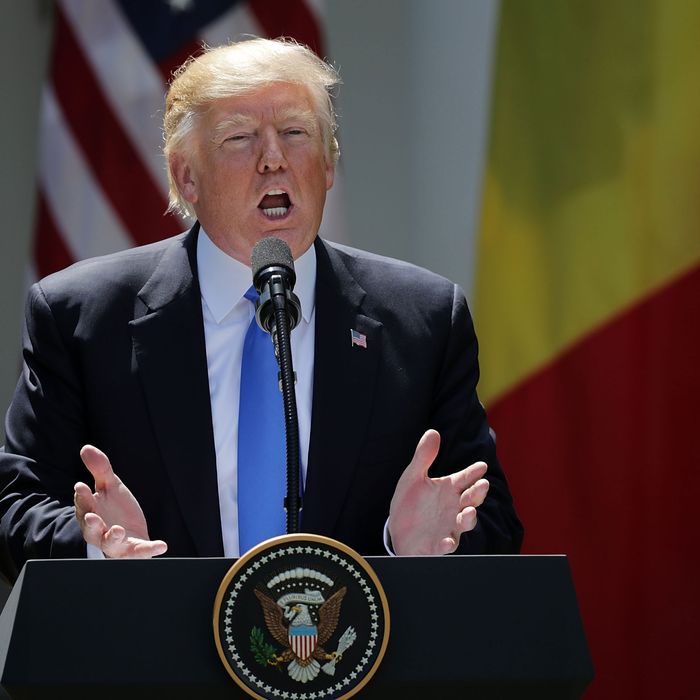 The star witness.
Photo: Chip Somodevilla/Getty Images
Donald Trump appears to be "100 percent" ready to commit a federal crime: The president said Friday that he is willing to say, under oath, that James Comey gave false testimony to the Senate.
On Thursday, the former FBI director told the upper chamber that Trump had demanded his personal loyalty — and then asked him to demonstrate that loyalty, by dropping the FBI's investigation into Michael Flynn.
James Comey has a hard-earned reputation for honesty; written records of the interactions in question; and colleagues in the FBI who heard him describe those interactions shortly after they transpired. America's top national security officials can also offer supporting evidence for Comey's narrative, as Trump reportedly encouraged them to have a word with Comey on Flynn's behalf.
Donald Trump has a well-deserved reputation for shameless, pathological mendacity. He also has secret recordings of his conversations with Comey — unless he lied about that, which he almost certainly did.
Given these facts, one might think that the president would wish to avoid contradicting Comey's account in a context where doing so would be a criminal act. But one would be wrong.
At a joint press conference with Romanian president Klaus Iohannis Friday, Trump said that Comey's statements "just weren't true."
"No collusion, no obstruction, he's a leaker, but we want to get back to running our great country," the president said.
Asked specifically whether he had told Comey that he "hoped" the FBI director could find a way to let Flynn go, Trump reiterated his denial.
"I didn't say that. I will tell you, I didn't say that," the president told ABC News's Jonathan Karl. "And there would be nothing wrong if I did say it according to everybody that I read today, but I did not say that."
Trump went on to deny that he had ever asked Comey to pledge loyalty to him.
"I hardly know the man. I'm not going to say I want you to pledge allegiance," Trump said. "Who would ask a man to pledge allegiance under oath? Think of that. I hardly know the man."
Asked by Karl whether he would be willing to say these things under oath, Trump replied, "100 percent."
Democrats are eager to take him up on that offer.
Of course, Trump has declared himself 100 percent willing to do many things that he never quite finds the time to actually do.
Meanwhile, the House Intelligence Committee is formally asking the White House whether it possesses any "recordings or memoranda" of Trump's conversations with Comey.
In the Rose Garden Friday, the president was asked whether such tapes existed.
"I'll tell you something about that maybe sometime in the very near future," Trump said.
Asked if he were trying to hint at something, the president replied, "I'll tell you about it over a short period of time. I'm not hinting at anything…You're going to be very disappointed when you hear the answer."