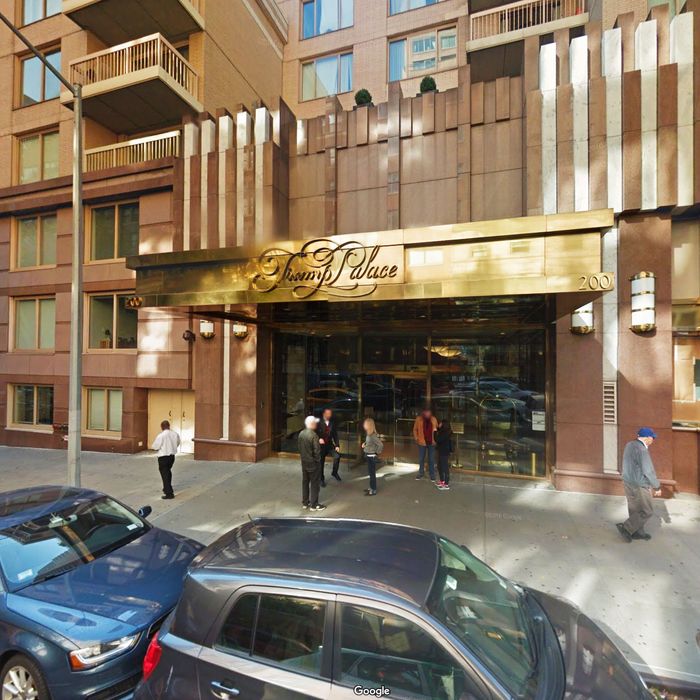 Trump Palace.
Photo: Google
A group of condo owners at Trump Palace, a ritzy Upper East Side high-rise, are mounting a revolt against the man whose name is plastered on the outside of the building, as they watch unit prices drop faster than President Trump's approval rating.
One resident of 200 East 69th Street has begun circulating a letter attempting to build support for the removal of Trump's name from the façade, according to The Hollywood Reporter.
"This problem is real and will not go away anytime soon," the letter says. It goes on:
"We, the owners, can change the name if 2/3 of us agree. I am asking you to support my effort to remove the name Trump from the building and change the legal name from 'Trump Palace Condominium' to '200 E 69th St Condominium.' I understand that for some this is a complicated issue. For me, it's only business. Our homes are worth more without the Trump name."
The letter was written by condo owner Laurence Weiss, a former Goldman Sachs partner who has seen his 3,600-square-foot penthouse drop from $15 million in 2015 to $8.9 million today. He said the response to his letter has been split, with 32 people agreeing that the name needs to go and 24 people preferring to remain with Trump.
The 26-year-old building contains 277 units, 18 of which are currently on the market, according to THR's analysis. Of those, seven have seen at least one price reduction.
Last year, Keith Olbermann sold his own unit in Trump Palace at a 10 percent loss, but he didn't seem to care.