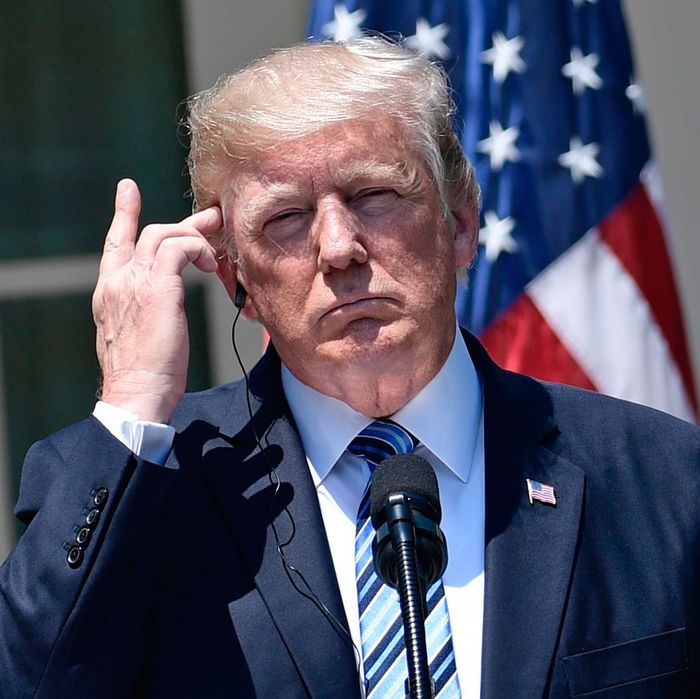 Trump.
Photo: Brendan Smialowski/AFP/Getty Images
Speaking in the White House Rose Garden Friday afternoon, President Trump declared that the "era of strategic patience" with the "reckless and brutal" regime in North Korea has been a failure. It's time for a "determined response" to Pyongyang's weapons programs, he said, standing alongside South Korean President Moon Jae-in.
"The North Korean dictatorship has no regard for the safety and security of its own people, or its neighbors, and has no respect for human life — and that's been proven, over and over again," Trump said.
President Moon spoke next and echoed Trump's tough tone. "Threat and provocations by the North will be met by a stern response," he said.
It's unclear what Trump and Moon have in mind when they talk of "stern" and "determined" responses, and since they didn't take questions, no one was able to ask them. But one tactic to rein in North Korea that the Trump administration has clearly settled on is increasing pressure on China.
As Trump put it Friday, "other regional powers" must demand "that the North Korean regime choose a better path and do it quickly."
On Thursday, the U.S. did its part when the Treasury Department imposed new sanctions on a Chinese bank, a Chinese shipping firm, and two Chinese citizens with ties to North Korea. Along with a $1 billion arms deal with Taiwan, the sanctions are seen as a message to Beijing from the Trump administration, which wants to see China increase pressure on North Korea.
Another option that Trump is leaving on the table when it comes to North Korea? A military assault. "The threat is much more immediate now. We can't repeat the same failed approach of the past," national security adviser General H.R. McMaster said of North Korea on Wednesday. "The president has directed us to not do that and to prepare a range of options, including a military option, which nobody wants to take."