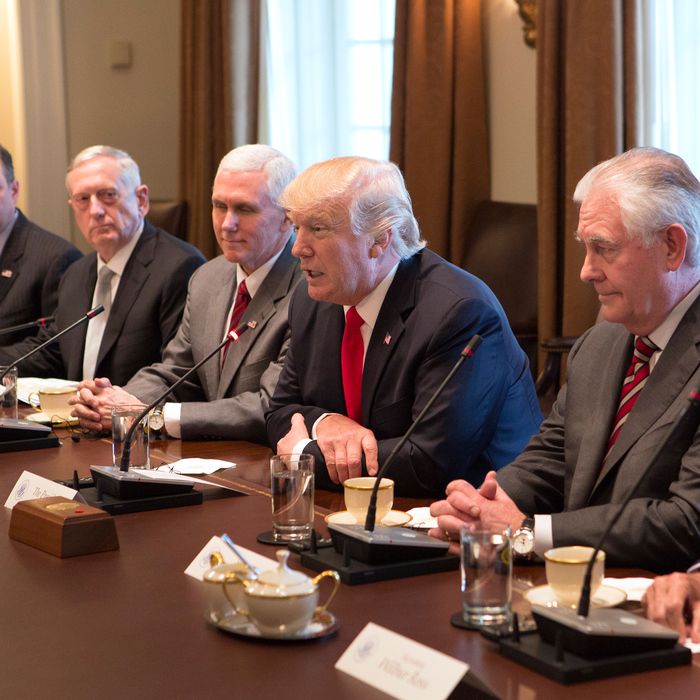 Trump's corporate-exec-stuffed cabinet not happy with the boss's apparent zest for a trade war.
Photo: Pool/Getty Images
When Donald Trump stuffed his cabinet with corporate tycoons and conventional conservatives, he guaranteed that at least one key element of his campaign platform would arouse intense internal opposition if he ever decided to pursue it: protectionist trade policies. According to a report from Axios, the moment of conflict has arrived:
With more than 20 top officials present, including Trump and Vice President Pence, the president and a small band of America First advisers made it clear they're hell-bent on imposing tariffs — potentially in the 20% range — on steel, and likely other imports.




The penalties could eventually extend to other imports. Among those that may be considered: aluminum, semiconductors, paper, and appliances like washing machines.




One official estimated the sentiment in the room as 22 against and 3 in favor — but since one of the three is named Donald Trump, it was case closed.




Apparently no final decision has been reached, but it could be just a matter of time: "Everyone left the room believing the country is headed toward a major trade confrontation." It seems the administration figures driving this particular runaway bus are Commerce Secretary Wilbur Ross, US Trade Representative Peter Navarro and the White House's own chief America Firsters, Stephen Bannon and Stephen Miller. The Axios report contained no real economic rationale for the possible trade war, but did indicate a political motive: Trump's "base" would love it, particularly since its ostensible target would be the much-suspected menace across the Pacific, China. As a Business Insider report explained:
While the intent is to penalize China, a goal of Trump's dating back to the campaign, officials informed Trump that the tariff would most likely affect other major allies of the US including Canada, Germany, Japan, Mexico, and the UK.
U.S. mobilization for a trade war, likely beginning with steel imports, has been going on in the background since Trump took office, as the Los Angeles Times pointed out earlier this week:
Two months ago, the president ordered a study of foreign steel shipments, and its findings and recommendations could be issued as early as this week, giving him the green light to put his "America first" policy into action and remake a global trading system he thinks has undercut the U.S.




"It'll be the first big one," said William Reinsch, a veteran trade specialist in Washington, D.C., noting that till now, Trump's tough talk on trade has been just that, mostly talk.
But steel aside, the "talk" is clearly escalating. Just today, in remarks made during a meeting with a delegation accompanying South Korean president Moon Jae-In, Trump blamed the entire U.S. national debt on chronic trade deficits.
Perhaps launching a trade war will give the administration a temporary lift at a time when its congressional agenda is largely stalled and the president's popularity continues to languish. But the spoilsports in Trump's cabinet aren't the only ones who fear the consequences. This laconic assessment from Business Insider is something we will hear a lot if Trump moves ahead with steel tariffs:
Most economists agree that tariffs of the type Trump is considering would set off a major trade war and have devastating economic consequences. There is also a good chance that the move would result in a US recession.
Trump's "base" would not much care for that.