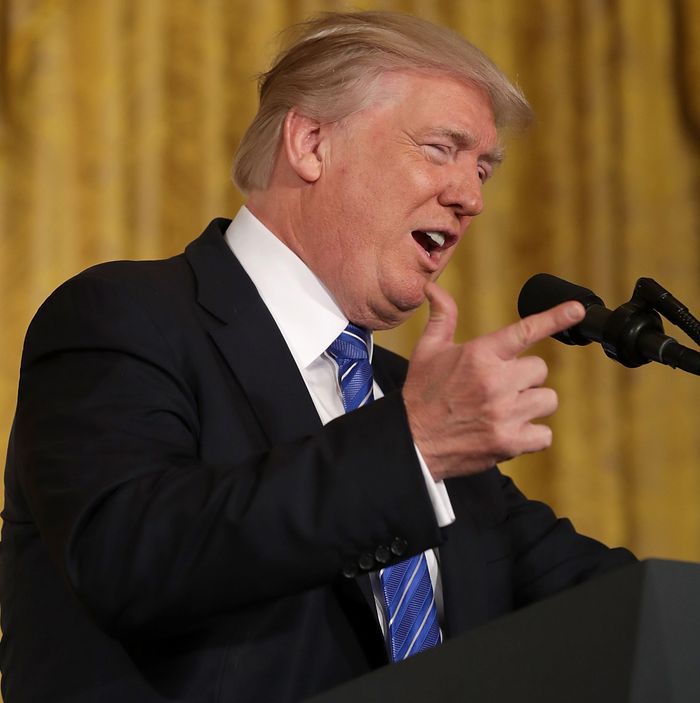 It's unclear why Trump is gloating over a marginal narrowing of an injunction against his travel ban taking effect, but guess he needs a win this week.
Photo: Chip Somodevilla/Getty Images
The U.S. Supreme Court today issued a complicated and very preliminary ruling on President Trump's second version of his proposed "travel ban."
Trump himself found nothing complicated or preliminary about it at all, it seems, according to the statement he released:
Today's unanimous Supreme Court decision is a clear victory for our national security. It allows the travel suspension for the six terror-prone countries and the refugee suspension to become largely effective.




As President, I cannot allow people into our country who want to do us harm. I want people who can love the United States and all of its citizens, and who will be hardworking and productive.




My number one responsibility as Commander in Chief is to keep the American people safe. Today's ruling allows me to use an important tool for protecting our Nation's homeland. I am also particularly gratified that the Supreme Court's decision was 9-0.
Actually, the decision was only "unanimous" with respect to a narrowing of the lower-court injunctions against implementation of the travel ban. And the narrowing was marginal. As Cristian Farias put it: "The justices allowed his administration to enforce the travel ban against pretty much anyone who is not tangibly affected by it." That does not make the travel ban "largely effective." And even that largely technical "victory" for the administration is tentative: the Court could ultimately decide the lower courts were correct in voiding the whole exercise on either constitutional or statutory grounds.
The only "clear victory" Trump won was with respect to the three justices (Thomas, Alito, and Gorsuch) who dissented from the Court's unsigned opinion, arguing that the travel ban should have been allowed to go fully into effect pending SCOTUS review.
And there's one other reason the presidential gloating may be misguided: The Court asked the parties to the case to prepare to explain when the case does come up for review why the whole controversy is not moot, since today's ruling will give the administration plenty of time to come up with the enhanced vetting standards for visas that the travel ban was originally supposed to give way to within 90 days.
This isn't a White House known for nuanced commentary on judicial rulings, or for self-restraint in claiming victories. But calling the SCOTUS action a "clear victory" is a bit much.