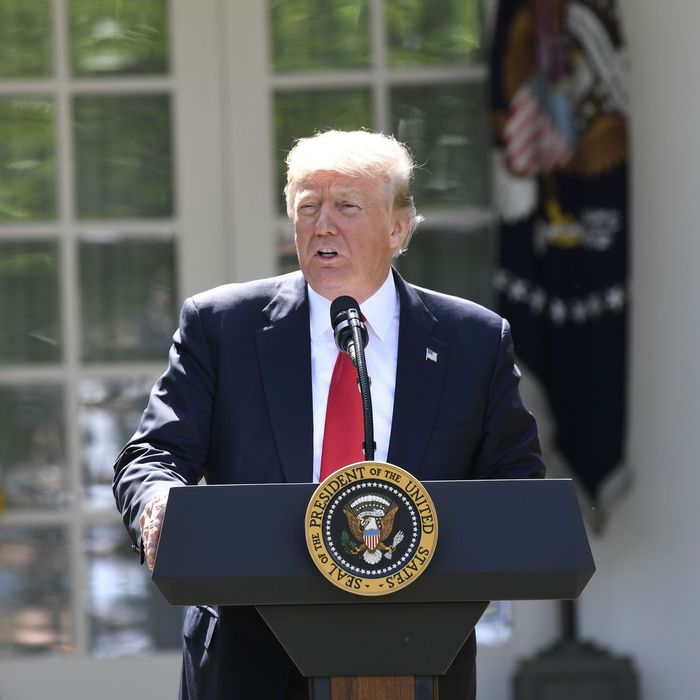 President Trump in the Rose Garden.
Photo: Saul Loeb/AFP/Getty Images
President Trump announced Thursday in the White House Rose Garden that the U.S. will pull out of The Paris Agreement on climate change, a landmark global effort to reduce global greenhouse gases.
"In order to fulfill my solemn duty to protect America and its citizens, the United States will withdraw from the Paris climate accord," Trump said. He added that the U.S. will "begin negotiations to re-enter on terms that are fair to the United States, its business, its workers, its people and its taxpayers."
"The Paris climate accord is simply the latest example of Washington entering into an agreement that disadvantages the United States to the exclusive benefits of other countries, leaving American workers, who I love, and taxpayers to absorb the cost," he said.
The agreement, which 195 countries have signed on to, sets a goal of preventing global temperature from rising 2°C (3.6°F) by 2100. To achieve that, each country has set forth a plan to reduce its own emissions and is required to submit a report outlining its progress every five years. The agreement is non-binding, but these public progress reports are meant to keep countries on track.
The U.S., under President Obama, pledged that emissions would be reduced to as much as 28 percent below 2005 levels by 2025. The U.S. also promised to put $3 billion into the Green Climate Fund. Trump took issue with the fund in his comments Thursday, saying the it will cost the U.S. a "vast fortune." He also said the only reason other countries want the U.S. to stay in the agreement is to economically harm the country.
"The bottom line is that the Paris accord is very unfair at the highest level to the United States," he said.
Trump's decision to pull the U.S. out of the deal was something other signatories have prepared for. In anticipation of Trump's move, China and the EU have reaffirmed their commitment to the Paris agreement. The terms of the deal do not allow a country to leave deal until three years after it does into effect. It would then take another year for the country to pull out.
That sets the date of the U.S. withdrawal for November 4, 2020—a day after election day.
By abandoning the Paris agreement, Trump is going against many high profile business leaders who have been adamant about the importance of remaining a part of the accord. CEOs of energy companies, along with dozens of other major American companies have publicly called on Trump to work toward the goals made under Obama. Some of Trump's advisers have even been pushing him toward keeping the U.S. in the agreement, although that may have just been a way to protect U.S. fossil-fuel interests.
After Trump began his remarks, President Obama released a statement criticizing the decision.