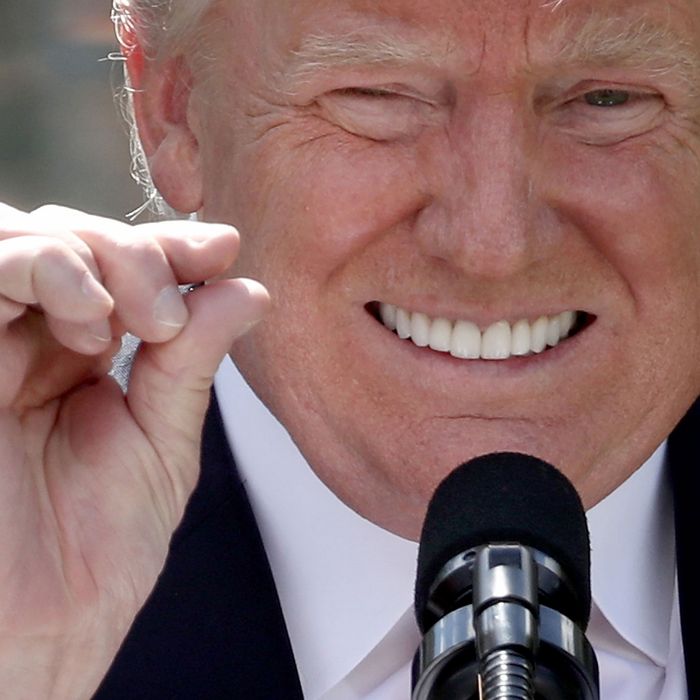 What's the opposite of bigly?
Photo: Win McNamee/Getty Images
President Trump's approval rating has fallen to an abysmal 34 percent, a new low in Quinnipiac University's national poll and a 3-point drop from May 24, the last time the poll was released.
The poll did not isolate one issue that is driving people to disapprove of Trump. There are just too many. Sixty percent of the country's voters think Trump did something either "illegal" or "unethical" with regard to Russia, while a majority believes him to be a dishonest, poor leader who does not care for the average American.
Conducted from May 31 to June 6, the poll caught up with voters just as Trump spiked the Paris climate agreement. So naturally, pollsters asked about climate change. Sixty-two percent of respondents said Trump's decision to withdraw from the agreement was a mistake, with 78 percent saying they are "very concerned" or "somewhat concerned" about climate change.
"There is zero good news for President Donald Trump in this survey, just a continual slide into a chasm of doubt about his policies and his very fitness to serve," Tim Malloy, assistant director of the Quinnipiac University Poll, said in a press release.