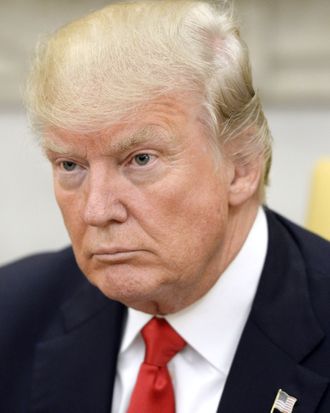 Photo: Olivier Douliery - Pool/Getty Images
Recently, members of the right-wing media began suggesting the president fire Robert Mueller, the special counsel tasked with investigating the Trump campaign's relationship with Russia. Then, on Monday evening, Newsmax CEO and Trump pal Chris Ruddy said that the president was "considering perhaps terminating the special counsel," which, Ruddy added, "would be a very significant mistake." (Congressional Republicans were quick to agree, with Representative Mark Sanford calling the idea of firing Mueller "a form of political suicide," while House Speaker Paul Ryan said, "I think the best thing to do is to let Robert Mueller do his job.") White House spokespeople didn't dispute Ruddy's claim, saying only that he "speaks for himself," which made it sound like Trump might be crazy enough to get rid of Mueller just weeks after the suspicious dismissal of James Comey. A Tuesday-night New York Times report appears to confirm that Trump has, in fact, talked about canning Mueller, though his aides have managed to prevent him from doing so — at least for now.
Trump believes that Mueller, a friend of Comey, is part of a partisan "witch hunt" against him. According to the Times, much of Trump's staff basically agrees, but they have tried to convince their boss that another rage-fueled intervention in the Russia investigation "would turn a bad situation into a catastrophe." (Melania also reportedly told her husband "she believed the appointment of Mr. Mueller would speed resolution of the Russia scandal," resulting in his exoneration.) "The pushback also represented growing willingness among staff members to try to keep Mr. Trump from making damaging mistakes," the Times reports, "an important internal change in a White House dominated by a president who often demands obeisance." On the other hand, there's only so much anyone can do:
People close to Mr. Trump say he is so volatile they cannot be sure that he will not change his mind about Mr. Mueller if he finds out anything to lead him to believe the investigation has been compromised. And his ability to endure a free-ranging investigation, directed by Mr. Mueller, that could raise questions about the legitimacy of his Electoral College victory, the topic that most provokes his rage, will be a critical test for a president who has continued on Twitter and elsewhere to flout the advice of his staff, friends and legal team.
The president ignored reporters' questions about Mueller on Tuesday, apparently as part of what he believes is a clever, farsighted strategy. According to someone who spoke to Trump, "The president was pleased by the ambiguity of his position on Mr. Mueller, and thinks the possibility of being fired will focus the veteran prosecutor on delivering what the president desires most: a blanket public exoneration." The notion that Mueller, a 72-year-old former FBI director who has spent decades in the highest levels of the U.S. government, needs the special counsel gig badly enough to allow himself to be manipulated by Trump is laughable, but you have to remember that the president probably still believes that people live in genuine horror of him telling them, "You're fired!"