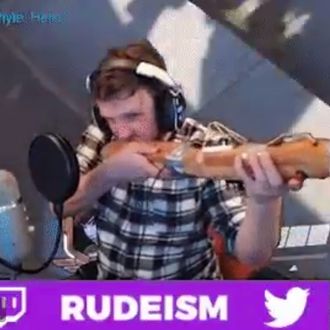 There are many ways to play a video game. Maybe you prefer using a controller with joysticks and triggers. Maybe you prefer a mouse and keyboard, which afford you more functionality in exchange for greater complexity. Maybe you like playing your first-person shooters by holding a baguette like a gun in order to snipe opponents.
Okay, maybe that's not your preferred method, but it is now possible, thanks to streamer Rudeism, who outfitted a long loaf of bread with motion trackers in order to land head shots. It actually seems to work pretty well. It's got a joystick and buttons to trigger special moves, and a decent level of accuracy.
Here's the full three-hour stream, which he played with the baguette the entire time.