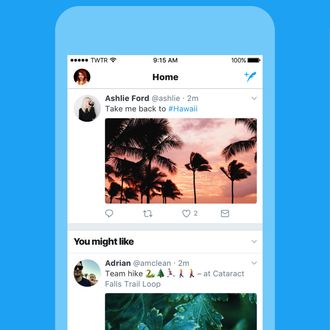 Twitter rolled out a redesign on Thursday to mixed reviews.
Photo: Twitter
Twitter rolled out a big ol' redesign this morning. It'll soon be available across desktop, iOS and Android, and TweetDeck. The update is mostly stylistic and changes little to nothing about Twitter's functionality. (No tweet-editing options in sight, sadly.) Tweets now update in real time to show you the number of replies, retweets, and likes you've gotten. The app has a new navigation menu. The platform has an updated font, corners of images are rounded, and — this one seems to be the biggest complaint online — avatars are circular instead of square. To our untrained eyes, it looks … fine.
But Twitter is the world's greatest platform for minor complaints, which means that it puts itself in an awkward position when it gives its users a reason to complain. On Twitter, people are really letting Jack Dorsey and his compatriots know what's up. Of course, there's a certain beauty to a group of people complaining about how much they hate something, while having to use that exact thing to do said complaining.
Fortunately for Twitter, everybody will likely be over this soon enough. Remember how outraged you were when Instagram changed its logo? Of course you don't.