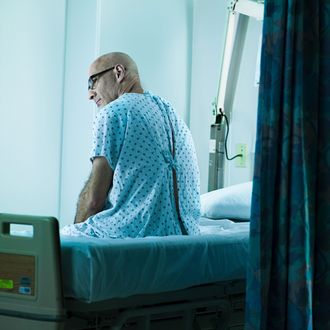 People are taking to Twitter to explain how the Affordable Care Act impacted their lives.
Photo: Image Source/Getty Images
Very few things require 9 zillion 140-character missives to explain properly. (That's the whole point of Twitter!) Very few things, that is, come close to the importance of the Affordable Care Act. As the Trump administration moves closer and closer to finalizing its Obamacare replacement, the American Health Care Act, people have started using Twitter threads to explain, in heartbreaking detail, what the ACA has meant for them and their loved ones.
Suddenly, Twitter threads, which for most other circumstances are just annoying, have become a form of political storytelling. Unlike regular threads, which require you to read from start to finish, these threads don't require the same follow-through — though you should read them in their entirety. Whether you come in at tweet No. 1 or tweet No. 20, you get the point, loud and clear: The ACA saved lives and the AHCA is poised to do the opposite. And for the lives that couldn't be saved, Obamacare helped people ensure their family members could receive the medical treatments that constituted their best chance for survival without worrying about the cost. The stories are powerful and also incredibly alarming, as pointed out on Twitter by writer Brandy Jensen. Lives are at stake, and the most people can do is rehash the worst days of their lives, publicly, in the hopes that it might help.
This week, author and web designer Eric Meyer shared a heartbreaking, multi-tweet thread documenting the loss of his 6-year-old daughter, Rebecca. Rebecca died of cancer in 2014, less than a year after she was diagnosed. In that time, the cost of her treatments rang in at $1.7 million. Meyer wrote that because he and his family had insurance, the out-of-pocket cost for their family was in the "low five figures."
Ken Norton, a partner at Google Ventures, also shared a thread documenting the loss of a child, his son, Riley, who died in 2014 and was born with a preexisting heart condition.
Rebecca and Riley aren't alone. Do a quick Twitter search for hashtags like #SaveACA, #Obamacare, and #HowTheACASavedMyLife and you'll find plenty more stories that would have gone quite differently had the AHCA been law at the time. There's a mother tweeting photos of the astronomical bills from her son's most recent open-heart surgery, a cancer patient with a preexisting condition who is able to afford chemotherapy because of the ACA, a cancer survivor whose childhood leukemia no longer meant he could be denied coverage, and a healthy 6-year-old boy who is alive today because Medicaid covered an emergency surgery when he was a baby. These are the stories and faces of the Affordable Care Act. Twitter is just helping to amplify their voices.