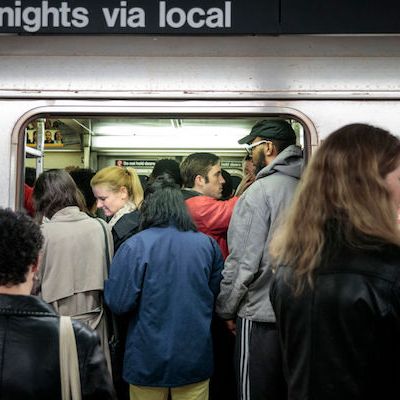 The A train during a power outage in April.
Photo: Drew Angerer/Getty Images
New York governor Andrew Cuomo probably thought he had a lay up when he posted a quick tweet bragging about Audi's autonomous vehicles hitting the highways of New York.
Twitter users, however, had a different set of priorities for Cuomo to focus on. Maybe, say, preventing disasters like the F train from hell that traumatized New Yorkers last week.
After looking through the more-than-100 replies for anything besides variations on "fix the subway," this is the best I could find:
To be fair, Cuomo has shown quite a bit of love to bridges and tunnels — he took $500 million intended for subways, buses, and trains run by the MTA and instead used it to install cashless tollbooths on NYC's bridges. He's also spending an unknown amount from the MTA's capital plan on installing colorful, choreographed LED lighting on the seven bridges controlled by the MTA. "You'll have bridges all across the New York City area that are choreographed," said Cuomo at the beginning of this year. "Nothing like this has been done on the planet."
Sadly, those pretty lights will be hidden from view for anyone stuck underground in New York City's rapidly decaying transit system.