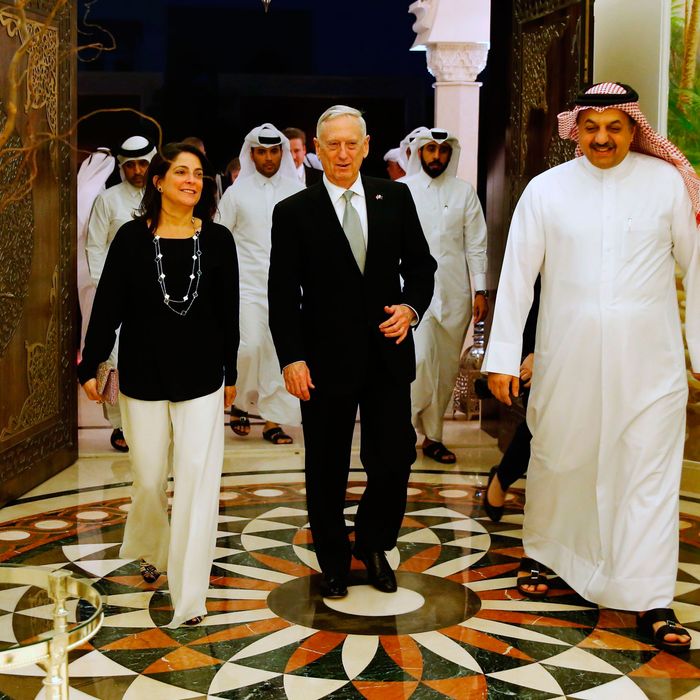 Qatar Minister of State for Defense Affairs Khalid bin Mohammed al-Attiyah (r) meets with Defense Secretary James Mattis (c) and ambassador to Qatar Dana Shell Smith (l) in April.
Photo: Jonathan Ernst/AFP/Getty Images
Talk about timing: The U.S. ambassador to Qatar, Dana Shell Smith, is leaving her post at the end of the month as tensions flare amid the Saudi-led standoff with the tiny Gulf state. The State Department confirmed that Shell Smith's three-year tour had concluded, and her departure from her posting was expected — regional crisis or no —though she reportedly has decided to also leave the Foreign Service. Early reports speculated that Shell Smith may have stepped down because President Trump's recent and very public criticisms of Qatar has sidelined State Department attempts to navigate the crisis between its regional partners.
The departure of the long-serving ambassador comes as the Saudi-led diplomatic and economic boycott extends into its second week. Despite the mixed signals from Washington, the chairman of the Joint Chiefs of Staff, General Joseph Dunford, told the Senate during a hearing on Tuesday that, so far, the blockade hasn't affected U.S. military operations in Qatar. Secretary of State Rex Tillerson remains out front calling for a resolution between its regional partners.
But both sides are digging in right now. Qatar cultivated key support from Turkey and Iran, though its cooperation with the latter is likely to incense Saudi Arabia all the more. Right now, most of the support has come in the form of food aid, as Saudi Arabia closed off Qatar's land border over which it gets most of its imports. Iran and Turkey have both sent cargo planes of fresh food. Plus, a Qatari businessman even has a plan to airlift 4,000 cows to maintain the country's dairy supply. "A lot of people think we're the only ones to lose in this," the Qatari finance minister definitely told CNBC. "If we're going to lose a dollar, they will lose a dollar also."
And those cracks are showing. Reuters reported Tuesday that Qatar has shuttered its two helium plants because, with its borders shut, it can't export the product. Qatar is the world's second-largest producer of helium, which might have ripple effects among the industries that rely on Qatar's helium exports which, yes, do include hot-air balloons.