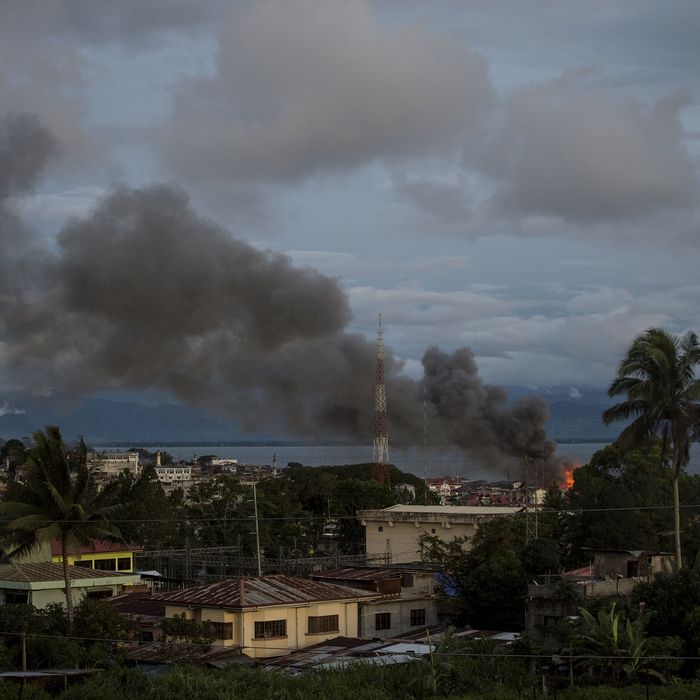 Smoke rises after aerial bombings by Philippine Air Force planes on Islamist militant positions in Marawi on June 9.
Photo: Noel Celis/AFP/Getty Images
U.S. Special Operations Forces are now actively assisting the Philippines in its attempt to battle ISIS-linked militants, according to the U.S. Embassy in Manila. Reuters and CNN report that the embassy didn't offer any details as to what kind of assistance the U.S. was now providing, but an official from the Philippine military has said that it only comprises "technical support," not boots on the ground. On Friday, a U.S. surveillance plane was seen flying over Marawi City in the Southern Philippines, where at least 58 members of the country's security forces have been killed amidst intense urban fighting with hundreds of Islamist rebels who seized part of the city late last month. As many as 200,000 people have been displaced by the recent violence, which has included air and ground assaults by Philippine forces, and which has led to fear in Southeast Asia that ISIS may be able to establish a threatening foothold in the region. There are also unconfirmed reports that the local leaders of the insurgents, known as the Maute militant group, have been killed in the recent fighting.
The U.S. Embassy emphasized to CNN that U.S. Special Operations Forces have been supporting the longtime ally's counterterrorism efforts for years, but in fact that alliance had become significantly strained following the rise of Philippine president Rodrigo Duterte. Since taking office last year, Duterte has been widely condemned for supporting the extrajudicial killing of drug users and criminals in the Philippines, including by the U.S. under the Obama administration. In response, Duterte had vowed to expel U.S. military personnel from the country, but the leader appears to have found a more sympathetic counterpart in President Donald Trump, who has reportedly praised Duterte's brutal anti-crime program.