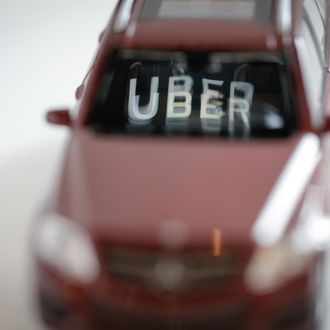 Uber has faced months of scandals leading up to its CEO, Travis Kalanick, announcing a leave of absence.
Photo: Jaap Arriens/NurPhoto via Getty Images
During a companywide meeting called on Tuesday to discuss the ways Uber is trying to fix its historically horrendous office culture and widespread sexism and discrimination issues, board member Arianna Huffington said data shows that having one woman — she is currently Uber's only female board member — on a board often leads to having other women join. To which a fellow board member, David Bonderman of private equity firm TPG, replied the data actually shows that having a woman on a board means "it's much more likely to be more talking." (Cue a reaction from the room which the New York Times characterized as "aghast.") Several hours later, Bonderman issued a formal apology to Uber employees for his joke. A few hours after that, he resigned his post on the board. Earlier that same day, Travis Kalanick, Uber's CEO, announced he'd be taking an indefinite leave of absence from the company. For a man quipping about how women can't seem to stop talking, David Bonderman couldn't have picked a worse day to open his trap.
Kalanick is taking leave so the 40-year-old can have some time to grieve his late mother, who died in a boating accident earlier this month. But it comes at a pivotal time for Uber, which has been plagued by scandals for months now. Many of the stories that have come out in 2017 — including reports of a company visit to an "escort-style bar" in South Korea, an executive obtaining the medical records of a woman in India who was raped by her driver in 2014, and an ill-advised argument with a driver back in February — directly involved Kalanick, and occurred years earlier. More often than not, excuses were made, apologies were issued, and Kalanick, flanked by his cohort of loyal Uber executives, went back to business at usual, all while observers — and many employees — wondered why it had taken so long for Uber's rotten corporate culture to face a challenge.
But Bonderman's comment on Tuesday reveals that the problem at the ride-hailing company is much bigger than just a notorious — remember "boober" — CEO who has raised eyebrows and made headlines for years. Maybe the reason it has taken so long for Uber to realize it has a problem — and it does have a problem — is that the people closest to Kalanick can't seem to differentiate between a good move and a bad one, even when the difference has been handed to them, quite literally, in a 13-page report.
The reason Bonderman, Huffington, and the entirety of Uber's staff — minus a noticeably absent Kalanick — were even having a meeting on Tuesday has to do with a former Uber engineer, Susan Fowler, and a scorched-earth blog post she published back in February, detailing her year at the company. In it, Fowler wrote of being solicited for sex by her manager and being continually ignored, or even chastised, for reporting gender discrimination incidents to Uber's HR department. Within days, Uber announced it was tasking former U.S. Attorney General Eric Holder — Holder works for the law firm of Covington & Burling, which Uber keeps on retainer — with conducting an internal probe of the company over several months, culminating in Tuesday's report of recommendations for fixing those issues. Despite all this, Bonderman still thought it was okay to make a crack undercutting women during Tuesday's report presentation. (Bonderman later said in a statement that his comment was intended to come off as the opposite of how it was interpreted. Which, sure.)
While she reportedly groaned, "Come on, David," in response to Bonderman's comment, Arianna Huffington's behavior in recent weeks has also indicated a similar lack of awareness. Speaking at a conference in New York earlier this month, Huffington told the audience that Kalanick used an open lactation room to meditate in when he needed to clear his head at the office. (Uber doesn't currently have meditation rooms, though Huffington also said those are forthcoming.) She seemed very impressed with Kalanick's choice of action, retelling the story as though the top man at the company — who likely has his own office with walls and a closable door — using a private space designated for breastfeeding employees was acting appropriately, or even admirably. Prior to his (likely forced) resignation earlier this week, Emil Michael served as Uber's senior vice-president of business, where he was a close confidant of Kalanick's. In 2014, Michael suggested that the company should do opposition research on reporters to "give the media a taste of its own medicine." These are the people who, until very recently, surrounded and bolstered Uber and Kalanick. A fish might rot from the head, but at Uber, the stink seems to have found its way to the torso, too.
Since its launch in 2010, Uber has become known for its aggressive workplace environment — the company's 14 cultural values include "always be hustlin'," "meritocracy and toe-stepping," and "principled confrontation" — which was heavily influenced, and often championed, by Kalanick. Those, as per Tuesday's meeting, will be replaced in the coming weeks. But words are just denotations; changing "always be hustlin'" to something like "do your best work for only a reasonable number of hours per week and maintain a healthy work/life balance" isn't actually going to fix Uber. People will still have "hustlin'" on the brain. Arianna Huffington can rename Uber's "War Room" the "Peace Room" all she likes, but until the top brass at the company get a better grasp of the right and wrong ways to conduct themselves, and subsequently conduct business at Uber, nothing will change.
For lower-level employees, Holder's report is finally offering public confirmation of incidences and issues people have been witnessing, and experiencing, at Uber for years. "They have had meetings internally for years where people brought up these concerns," one anonymous Uber employee told BuzzFeed News. "None of this news is going to come as a surprise to anybody who's ever spent any time at Uber," a different ex-employee said to BuzzFeed. "How much [of the Holder report] is sort of cosmetic versus how much they actually plan to live it?" If Uber's higher-ups had pointed their ears down the food chain in years past, and acted on the discontent they were hearing, the company might not have ever reached its present day of reckoning. It wouldn't have needed it.
The quick turnaround from Bonderman's sexist joke to his resignation bodes somewhat well for Uber's future. (It's worth noting, he only resigned after audio from the meeting was leaked to the press, and that the Texas Pacific Group will still maintain a seat on Uber's board, sans Bonderman.) Still, it's a start. And cleaning house — at least 20 people were fired following a different internal misconduct investigation earlier this month — of employees whose actions don't reflect what the new Uber needs to be about to survive may be Uber's best chance for success.