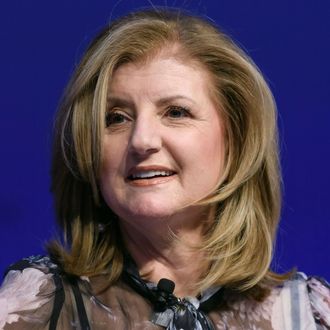 Arianna Huffington.
Photo: Fabrice Coffrini/AFP/Getty Images
Uber, the ride-share company that has issued an estimated 10 quadrillion apologies in 2017, was forced to issue one more today, after a very bad sexist joke was made by a board member at today's all-hands meeting — yes, the all-hands meeting about changing Uber's corporate culture to be more inclusive and diverse.
According to leaked audio obtained by Yahoo News, board member David Bonderman of the Texas Pacific Group made a joke at the expense of lone female board member Arianna Huffington: Huffington was speaking about data that showed that one female presence on a board often leads to more female presence down the road. Bonderman joked that the data actually shows that more women leads to more yapping.
To the board and the wider company's credit, the joke apparently did not land at all in the meeting, which, just to reiterate, was about a damning report covering how the company has historically treated female employees like garbage. Bonderman quickly issued an "I'm sorry if you were offended" apology to employees.