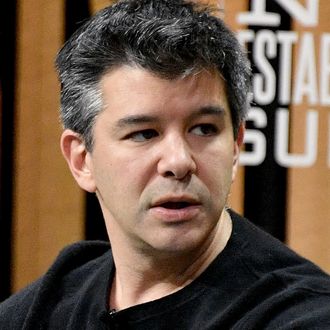 Uber's CEO Travis Kalanick is reportedly considering taking some time away from the company.
Photo: Mike Windle/Getty Images
After weeks (and weeks, and weeks) of terrible news — allegations of a horrible work environment, departures of a number of executives, a massive lawsuit brought by Google over stolen technology — for ride-hailing giant Uber, it seems like the bad press might finally be catching up with the company. Or at least with its top brass. Last week, details from an independent report conducted by former U.S. Attorney General Eric Holder were released to Uber's board. While details from the report haven't been made public — Recode reports a source saying it referred to the company as a "hostile workplace" — it seems a safe bet to assume they weren't good. Following the report, CEO Travis Kalanick is reportedly considering taking a leave of absence from the company, and SVP of business Emil Michael is reportedly being pushed to resign, Recode also reports.
Michael's potentially impending departure should come as no surprise if you've been following the latest in Uber's saga. (If you haven't, we don't blame you. Lately, it seems like there's been something new and bad breaking about the company at least once a day.) Michael, and Travis, were both reportedly shown questionably obtained medical reports of a woman in India who was raped by her driver in 2014. Uber believed the rape might have been falsified by Ola, an Uber competitor in India. Michael was also one of the Uber employees who reportedly visited an "escort-style bar" in South Korea several years back as a company outing. It's as yet unclear what Michael's next move will be, though Recode reports that Uber's board voted unanimously to follow the recommendations made in Holder's report. His departure would leave CEO Kalanick without one of his key supporters at the company.
Meanwhile, Travis Kalanick might also be walking away from Uber, if only for a short period of time. Following a boating accident that killed his mother and injured his father, Kalanick reportedly discussed taking a leave of absence from the company. The timing, however, isn't ideal for the CEO, since a leave now would seem linked to Uber's current issues, including a toxic and sexist workplace culture that he helped foster. (The recent revelation of an email containing "sex rules" for a company retreat really cements this.) Select All reached out to Uber for comment regarding both execs and will update this post if we hear back.