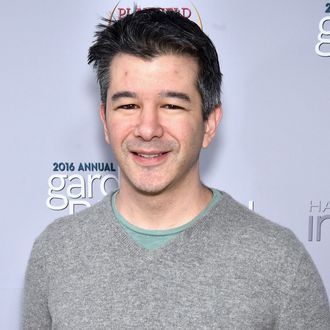 Travis Kalanick.
Photo: Dimitrios Kambouris/Getty Images
Uber's embattled CEO Travis Kalanick announced on Tuesday that he would take a leave of absence from the company, effective immediately, and likely return to the company with a more limited role. Kalanick, whose mother died suddenly in a boating accident earlier this month, wrote in a companywide memo that he needed "to take some time off of the day-to-day to grieve my mother … to work on myself, and to focus on building out a world-class leadership team."
The announcement was timed with a companywide meeting and the internal release of a report, compiled by former U.S. Attorney General Eric Holder, recommending a series of changes to company policy that could fix Uber's toxic workplace culture and sexual-harassment problems. Kalanick is the second high-ranking executive to announce a departure from Uber this week: Emil Michael, Kalanick's friend and right-hand man at the company, resigned from his post as SVP of business on Monday. (Both Michael and Kalanick were involved in recently publicized Uber scandals — including a trip to an "escort-style bar" in South Korea with company employees and mishandling medical records of a woman in India who was raped by her Uber driver. These documents were obtained by another Uber exec, Eric Alexander, who has since been fired.)
From Kalanick:
Team,

For the last eight years my life has always been about Uber. Recent events have brought home for me that people are more important than work, and that I need to take some time off of the day-to-day to grieve my mother, whom I buried on Friday, to reflect, to work on myself, and to focus on building out a world-class leadership team.

The ultimate responsibility, for where we've gotten and how we've gotten here rests on my shoulders. There is of course much to be proud of but there is much to improve. For Uber 2.0 to succeed there is nothing more important than dedicating my time to building out the leadership team. But if we are going to work on Uber 2.0, I also need to work on Travis 2.0 to become the leader that this company needs and that you deserve.

During this interim period, the leadership team, my directs, will be running the company. I will be available as needed for the most strategic decisions, but I will be empowering them to be bold and decisive in order to move the company forward swiftly.

It's hard to put a timeline on this — it may be shorter or longer than we might expect. Tragically losing a loved one has been difficult for me and I need to properly say my goodbyes. The incredible outpouring of heartfelt notes and condolences from all of you have kept me strong but almost universally they have ended with 'How can I help?'. My answer is simple. Do your life's work in service to our mission. That gives me time with family. Put people first, that is my mom's legacy. And make Uber 2.0 real so that the world can see the inspired work all of you do, and the inspiring people that make Uber great.

See you soon,
Travis
Uber also published a 13-page document of recommendations from Holder and his associates at the law firm of Covington & Burling, the very first of which is, "Review and Reallocate the Responsibilities of Travis Kalanick," which the company should be better able to do with the CEO out of the office for an undetermined amount of time. The internal probe was launched after ex-Uber engineer Susan Fowler published a damning blog post about her experiences with sexual harassment and gender discrimination during her year at the company. (A separate probe looking into Uber's issues was conducted simultaneously by the law firm of Perkins Coie. At least 20 employees were fired as a result of that report earlier in June.)
During an all-hands meeting today at Uber to announce the report's finding, Uber's chief HR officer, Liane Hornsey, thanked Fowler for speaking up, prompting employees at the meeting to applaud, Mike Isaac of the New York Times reported on Twitter. Hornsey also apparently asked everyone present to stand and hug each other. It seems Uber is taking the suggestion to "Reformulate Uber's 14 Cultural Values" — which included "Always be hustling'" and "toe-stepping" — seriously and with great haste. (During today's meeting, Uber board member Arianna Huffington — who is quite proud that Kalanick has begun meditating in a lactation room at Uber's offices — said a conference room known as the "War Room" will be renamed the "Peace Room," Isaac also tweeted.) Further attempts to make Uber a less-awful place to work include offering ride credits to employees and serving catered dinner — these are standard at the office — earlier in the evening, so employees who aren't burning the midnight oil can also take advantage.

Other recommendations included "Enhance the Independence of the Board," which has historically been loyal to Kalanick, and "Provide a Robust and Effective Complaint Process." (Fowler's blog post noted that she ran into trouble each time she tried to report an incident to HR, to the point where an HR representative suggested that she [Fowler], not the company, was the root of the problem.) "Institute and Enforce Clear Guidelines on Alcohol Consumption and the Use of Controlled Substances" was another well-timed suggestion: "Uber should consider limiting the budget available to managers for alcohol purchases, restrict reimbursement for alcohol-related events, and include training for managers on appropriate events for retreats and out-of-work events." (Last week, Recode published an email Kalanick sent employees in 2013 in advance of a company retreat in Miami, which detailed, quite explicitly, the rules for substance use and sex during the trip.) Several pages of the report are dedicated to ways Uber needs to work toward better, diverse hiring practices and ways to help foster the careers of diverse employees already at the company. You can read the full list of recommendations here.