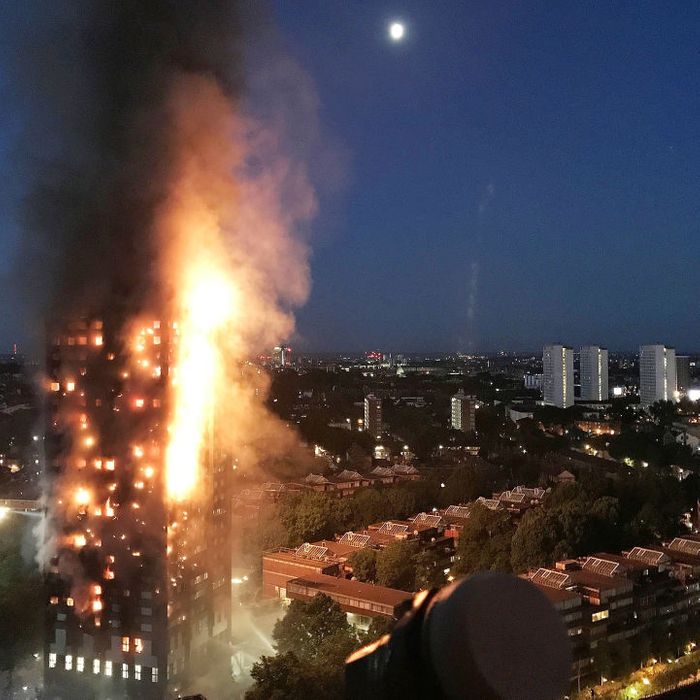 Grenfell Tower on Tuesday night.
Photo: Getty Images/Getty Images
London was hit with another tragedy late Tuesday night, when a 24-story North Kensington apartment building caught on fire and was quickly engulfed in flames. The high-rise, Grenfell Tower, is home to around 600 people, according to the Telegraph. As of Wednesday morning — with the building still burning — city officials said that "a number" of residents had died, while at least 50 had been hospitalized. Officials also said that "a significant number of people" were missing. London fire chief Dany Cotton told reporters that the disaster was "unprecedented." "In my 29 years of being a firefighter, I have never, ever seen anything of this scale," she said.
The fire began just before 1 a.m., and around 200 firefighters were eventually sent to the scene. "We rescued a large number of people from very early on," Cotton said. "As I was going down the stairs, there were firefighters, truly amazing firefighters that were actually going upstairs, to the fire, trying to get as many people out the building as possible," said a witness. Others described seeing people trapped inside the burning structure. "It's so heartbreaking, I've seen someone flashing their torches at the top level and they obviously can't get out," a man told the BBC. Another told the network that he saw people jump out of the building to escape the smoke and flames.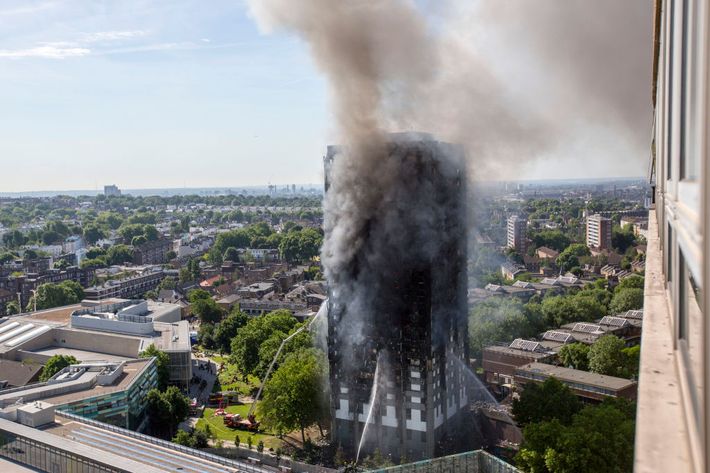 According to some of the tower's residents, the fire alarms didn't sound. Others said they were advised to remain in their homes even as it became clear that the situation was worsening. "If we had stayed in that flat, we would've perished. My gut instinct told me just to get [my girlfriend and daughter] out," recalled one resident. "I wrapped the little one up because of the smoke and I just got them out." A woman who watched the fire from the street explained:
"The fire crew, ambulance and police couldn't do anything, they couldn't get in, and they were just telling them to stay where they are, and we'll come and get you. But things quickly escalated beyond measure and they couldn't go back in and get them.Within another 15 minutes the whole thing was up in flames and there were still people at their windows shouting 'Help me'. You could see the fire going into their houses and engulfing the last room that they were in."
The cause of the fire has yet to be determined, but the New York Times reports that a residents' group had complained about "fire hazards in the building and what it called inattention by the landlord." "Questions need to be answered as soon as possible," said London mayor Sadiq Khan. "We can't have a situation where people's safety is put at risk because of bad advice being given or if it is the case, as has been alleged, of tower blocks not being properly serviced or maintained."