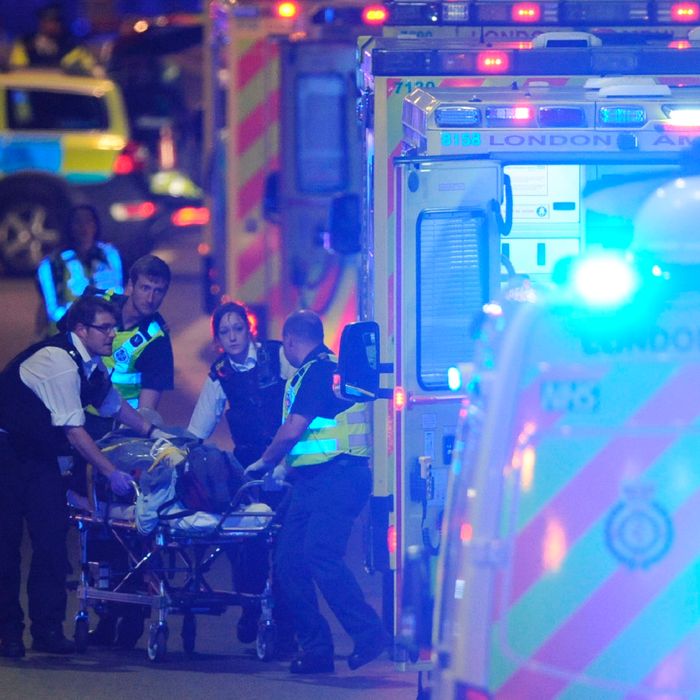 First responders attend to a person injured in the terrorist attack on London Bridge.
Photo: Daniel Sorabji/AFP/Getty Images
Seven people were killed and at least 48 were wounded during a terrorist attack in central London on Saturday night. Three suspected assailants, all men, were quickly shot and killed by police, ending the attack. The assault began just after 10 p.m. when a white van veered to strike pedestrians while heading southbound on London Bridge, then continued on to crash in Borough Market, where the three assailants, armed with long knives and wearing fake suicide vests, got out and started attacking multiple bystanders. Armed police quickly responded to the incidents, confronting and killing the assailants within eight minutes of receiving the first call about the attack. British authorities have confirmed that they are treating the incident as an act of terrorism.
As is often the case in breaking-news stories like this, the exact details hadn't been confirmed quickly; but it appears likely that the incidents were part of a co-ordinated terrorist attack — one that came less than two weeks after a suicide bomber killed 22 people outside a pop concert in Manchester, occurring despite an elevated terrorism-alert level throughout the country.
The "walking wounded" from Saturday's attack were treated at a hotel on Liverpool Street that was set up for triage, and at least 48 people were transported to six hospitals across the city for further medical care. One of the people injured was a responding British Transport Police officer who received serious but non life-threatening wounds.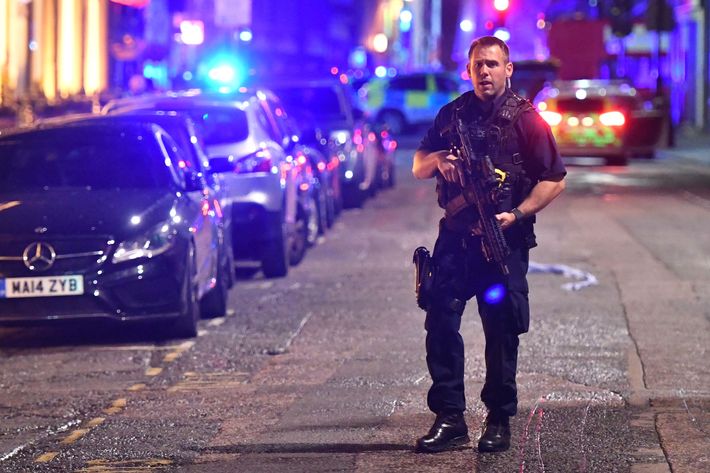 As of about 4 a.m. London time, the identities of the attackers, or their motives, had not been confirmed by authorities. The identities of the victims had also not been released. The investigation into the attack is being conducted by the U.K.'s Counter Terrorism Command, and authorities have asked bystanders with photos or videos of the attack to pass them along. British authorities are also planning to increase their security measures in the city and region following the attack.
A BBC reporter who witnessed the initial scene on the bridge, Holly Jones, said that the van was "probably traveling at about 50 miles an hour" when it started veering to hit pedestrians on the bridge. Following the report of that incident and the subsequent stabbing attacks, armed police officers quickly responded to the area, shutting down the bridge and surrounding streets. While the events unfolded, authorities asked Londoners to remain alert and vigilant while staying clear of the affected areas. (Facebook activated its safety-check feature for people in the city, as well.)
There were multiple reports of witnesses hearing gunfire and seeing victims with stab wounds to their throats. There were also been reports of an attacker entering at least one pub and attacking people inside. Police later confirmed that they had fired on the assailants. Explosions were also heard but were likely controlled explosions conducted by authorities after they found suspicious devices.
A documentarian, Gabriele Sciotto, captured the below image of some of the suspected assailants after they had been shot by police. As you can see, it appears the man on the ground in the foreground was wearing some kind of canisters, which police later said was a hoax suicide vest.
Police also responded to another stabbing that was subsequently reported at Vauxhall, but police later said it was not related to the bridge and Borough Market attacks.
As the attack unfolded on Borough High Street, fleeing bystanders rushed into pubs and restaurants to seek shelter from the attackers. Many of those establishments then locked their doors to protect the people inside. There have been numerous stories about victims sheltering in place before being evacuated by police. A terrifying scene inside one such pub at the height of the panic was shared on social media:
Many of the people who were caught in the area faced long trips home thanks to street closures and the shutdown of some of the city's public transportation system.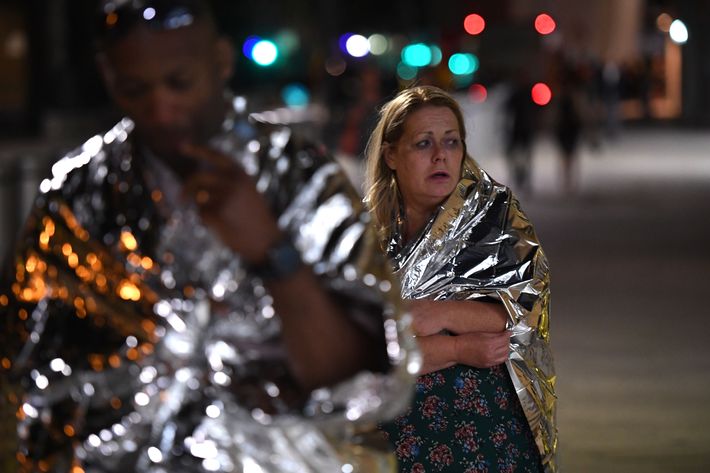 This is the third terrorist attack to strike Britain this year. In March, a suspected terrorist drove his car into more than 50 people on the Westminster Bridge in London, killing four, and then fatally stabbed a police officer before being shot and killed by another officer. No direct link has yet been found between the man and any international terrorist groups, but police considered the attack "Islamist-related terrorism." On May 22, an ISIS-linked suicide bomber killed 22 people and himself, and injured 116 others outside an Ariana Grande concert at an arena in Manchester. Grande, who is in the U.K. to perform at a benefit concert on Sunday night in Manchester for the victims of that tragedy, tweeted her support for London early Sunday morning:
Here in the U.S., President Trump initially responded to the incident by retweeting an unconfirmed and ultimately false report regarding the number of people injured on London Bridge that prematurely suggested the incident was a terrorist attack. Also on Twitter, Trump then sought to leverage the incident to push for his court-blocked "travel ban" executive order, which aims to prevent U.S. travel for citizens of seven majority-Muslim nations. Again he did this before any information regarding the nature of the incident or those involved was known, and despite the efforts of his own administration to rebrand the ban as a "pause." Finally, two hours after his first tweet about the story, Trump finally sent out a more traditional message expressing his support for London and the U.K.
This is a developing story and has been repeatedly updated to reflect new information as it became available.