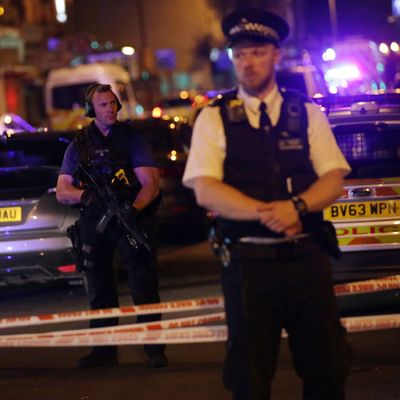 Police guard a street in the Finsbury Park area of north London on June 19, 2017.
Photo: DANIEL LEAL-OLIVAS/AFP/Getty Images
A van ran into a crowd of pedestrians outside a London mosque early on Monday, injuring ten people. One man died at the scene, but it's unclear if his death was related to the attack. "This is being treated as a terrorist attack," said Metropolitan Police deputy assistant commissioner Neil Basu.
All of the victims were Muslim, and witnesses said the driver shouted that he wanted to kill Muslims. Bystanders detained him for about 20 minutes until police arrived and placed the 48-year-old white man under arrest. Video, filmed at the scene, shows the crowd angrily shouting at the alleged attacker as police handcuff him and navigate him through the crowd toward a police van. Once inside the police vehicle, the suspect appears to wave at the crowd:
Abdulrahman Aidroos said that just before the attack, he and his friends were helping an elderly man who had collapsed in the street, according to the Washington Post. Suddenly, they they saw a man in a van driving "straight into us." Aidroos managed to escape unharmed, and he and his friends tackled the driver.
"When he was running, he said 'I want to kill more people, I want to kill more Muslims,'" he said.
"When I got him on the ground, I said, 'Why are you doing this?' He said, 'I want to kill more Muslims.'"
The elderly man later died, but police said it was "too early to tell" if his death was caused by the attack. Eight people were hospitalized and two other were treated at the scene.
Basu said that police were keeping an "open mind" on what prompted the attack, but "given the methodology and given what was occurring and what's happened, the tragic incidents across the country, this had all the hallmarks of a terrorist incident."
Police say they believe the suspect, who has not been named, acted alone. He was not known to authorities among those active in the far right, said security minister Ben Wallace. "There are no ifs, no buts," Wallace explained. "This is a terrorist attack in the same way the bomber of Manchester blew up many people only recently. This is a pure terrorist attack designed to inflict terror and fear and also hurt people in some twisted cause."
Metropolitan police chief Cressida Dick described the incident as "quite clearly" a targeted attack on Muslims. She said the authorities would step up protections of Muslim communities in the coming weeks, especially as worshippers are out in the last week of Ramadan.
Since March there have been two attacks in London in which vehicles were used as a weapon. Britain's terror alert was at "severe," which means an attack is highly likely.
The incident occurred shortly after midnight as hundreds of worshippers were leaving the Finsbury Park mosque in northern London following prayers for the holy month of Ramadan.
Saeed Hasm, another witness, told NBC News that the driver came up on the sidewalk, hitting three people, then he advanced and ran over several more pedestrians.
Hasm said when he and several other people tried to pull the man from the van he "started fighting with us and spitting with us." He said the driver was strong and it took more than five men to restrain him until the police arrived.
"People were very angry," he said. "They were smashing bottles, they wanted to hit him but we told them, 'Don't do it, don't do it. Let the police come.'"
The Finsbury Park neighborhood is home to many immigrants and has a significant Muslim population. CNN notes that at least four mosques are located on Seven Sisters Road, where the attack took place.
The Finsbury Park Mosque, which opened in 1994, was once notorious for extremism. Zacarias Moussaoui, who was convicted of conspiring to kill Americans in the September 11th attacks, and Richard Reid, who tried to blow up a commercial jet with a shoe bomb, once worshiped there. Two years ago Abu Hamza, who was the mosque imam from 1997 to 2003, was extradited to the United States and sentenced to live in prison on 11 terror-related charges.
The mosque was shut down after police conducted an anti-terrorism raid in 2003, but it reopened under a new board of trustees in 2005. Since then, it's rebuilt itself as a major house of worship in the area, and its leaders work to promote interfaith dialogue. During the U.S. presidential election, Labour leader Jeremy Corbyn invited Donald Trump to Finsbury Park Mosque, which is in his district, to show him how "multicultural, multifaith" Britain operates.
Corbyn said that he was "shocked" by Monday's incident, and Prime Minister Theresa May said: "All my thoughts are with those who have been injured, their loved ones and the emergency services on the scene."
Mohammed Kozbar, Finsbury Park Mosque's chair, expressed sympathy for the victims as well:
Sadiq Khan, London's first Muslim mayor, said the incident was "clearly a deliberate attack on innocent Londoners, many of whom were finishing prayers during the holy month of Ramadan."
British politicians descended on the mosque Monday, including Prime Minister Theresa May, who was reportedly heckled by bystanders, with some lobbing insults at her slow response to the Grenfell Tower fire.
This post has been updated throughout.