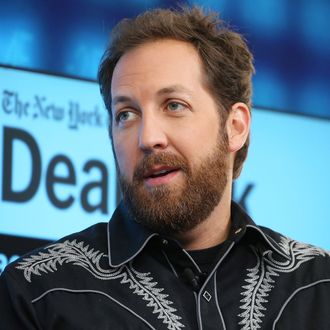 Chris Sacca.
Photo: Neilson Barnard/Getty Images for New York Times
Earlier this month, half a dozen women stepped forward with stories of sexual harassment involving Justin Caldbeck, co-founder of Binary Capital. Since then, Caldbeck has taken an indefinite leave of absence, and Binary is being sued by one former employee, Ann Lai, for harassment and defamation after she quit the firm. Matt Mazzeo, Binary's newest partner, has also left the firm, Axios reports. Between the crisis at Binary, a well-known firm in the tech industry, and at Uber, men in Silicon Valley are being forced to confront what female tech workers and entrepreneurs have been saying for years: The tech industry has a serious, debilitating sexism problem. And some of the men are finally, openly admitting this – but maybe only when prompted by the New York Times.
Prior to joining Binary, Mazzeo worked at Lowercase Capital with Chris Sacca, the cowboy-shirt-wearing VC best known for his appearances on Shark Tank. Sacca publicly announced that he was leaving the industry earlier this year, but amid the ongoing trouble at Binary, he's published a lengthy letter on Medium on Friday, entitled "I Have More Work to Do." In it, he details how he is beginning to realize that he might not have been as much of a "good guy" as he previously believed. Sacca published the letter just one day before the New York Times would publish a piece highlighting stories from women in tech who say they were harassed and discriminated against by men in the industry. One of the men accused is Sacca.
From Sacca's letter:
But's that's the crucial lesson I am learning right now in real-time: It's the unrelenting, day-to-day culture of dismissiveness that creates a continually bleak environment for women and other underrepresented groups. I contributed to that, and am thus responsible for the unfairly harder road that everyone other than white men must travel in our industry.




I am sorry.




It's also become clear to me that I didn't consistently use my power and influence to call out bad behavior by industry peers. The passive acceptance of exclusionary words and deeds is not okay. In the earlier years of my career, I made my own attempts to fit in and be accepted as one of the tribe of Sand Hill Road guys. Along the way, I looked the other way and didn't speak up at times I should have. I didn't highlight blatantly discriminatory hiring and I didn't call bullshit on overtly gender-biased investing.




But as I have listened to more tales from the past, it's become clearer: I had a duty to say and do more on behalf of those who were not in the conversation but nevertheless affected by it. I failed.
Sacca points to Ellen Pao's 2015 failed gender-discrimination lawsuit again Kleiner Perkins as an example. "Despite the verdict, I, like many others in Silicon Valley, believed in the merits of Ellen's case," he writes. "But, I was afraid to say so for fear of retribution from one of the industry's most powerful VC firms." (Which, hmmm, Chris, if that's scary, think about how much "fear of retribution" the Ellen Paos, Susan Fowlers, and Julie Ann Horvaths feel.) He says he soon "realized" he had a "duty to speak up on behalf of all of those who couldn't" and sent a tweet he believes "undoubtedly" hurt his relationship with Kleiner Perkins.
I gotta say: If this incredibly anemic tweet was enough to burn a bridge with Kleiner Perkins, that firm and the Valley at large have even more work to do than we thought.
Entrepreneur and investor Susan Wu told the Times that Sacca "touched her face without her consent in a way that made her uncomfortable" back at an event in 2009. (Wu also said she was propositioned by Justin Caldbeck, the now-disgraced Binary Capital co-founder, in 2006.) "I dispute Susan's account from 2009," Sacca told the Times. Sacca wrote in his letter the day before that "[p]articularly when reflecting upon my early years in Silicon Valley, there is no doubt I said and did things that made some women feel awkward, unwelcome, insecure, and/or discouraged."
Sacca's letter ends with bullets denoting the "work" he plans to do. They include continuing to invest in women and underrepresented groups — Sacca has invested millions into funds run by those groups in recent years — and working to be more aware of his biases. It's a perfectly nice list, one that, if more people in the biz actually read and acted from it, might do some good. But unfortunately, as with the recent publication of Uber's longtime discrimination problem, it's a list inspired by wronged women who were brave enough to come forward, even at their own expenses. If Susan Wu hadn't spoken out and sent the Times knocking, it's possible it's a list we never would have seen at all. It's reactive, not proactive. And until the latter becomes the norm, it seems unlikely things will really change for women in the industry.
Update, July 1, 2017, at 8:45 a.m.: This post has been updated to include new information involving Chris Sacca and Susan Wu from the New York Times.