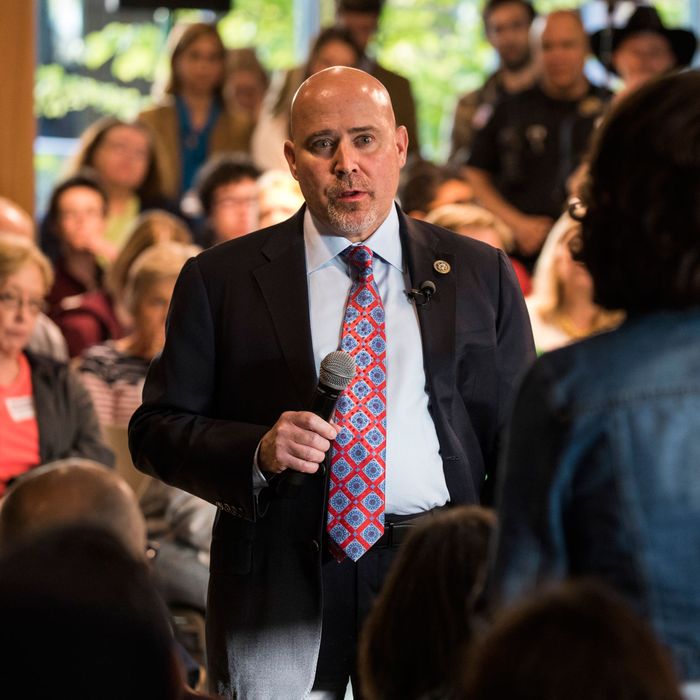 Tom MacArthur.
Photo: Dominick Reuter/AFP/Getty Images
House Republicans are scared. Last week, Arizona congresswoman Martha McSally warned donors that her political prospects were falling with President Trump's approval numbers. "I have an 'R' next to my name and right now, this environment would have me not prevail," McSally said in a leaked recording. After winning her district by 14 points last year, a recent poll found McSally trailing a generic Democrat.
And she's far from the only Republican who sees a big blue wave cresting.
"Republicans are growing increasingly worried that they will lose the House of Representatives," Politico wrote in its "Playbook" Monday morning. "The pervasive pessimism comes as there continues to be a dearth of legislative victories, and a toxic political environment that appears to be worsening."
For Politico, the upshot of this pessimism is clear: "Republicans will be less willing to take risks as they shift into political survival mode."
But that begs the question: For House Republicans, what constitutes a political risk?
After all, the House GOP was already navigating a "toxic political environment" in early May. And yet, when the time came to vote on a health-care bill that less than 20 percent of the public supported, self-styled "moderate" Republicans from competitive districts toed the party line.
At the end of the day, all those town-hall protests and calls to congressional offices did put the fear of 2018 into their hearts. But that fear pushed them further to the right. As the Washington Post reported:
As GOP leaders scrambled to bring the last holdouts aboard in recent days, they made the argument that the liberal base is already on fire, anxious to take back control of the House in next year's midterm elections. That means Republicans could ill afford to fall short on their health-care promise and risk depressing their own turnout.
Moderates considered the risk of voting for a bill that condemned thousands of poor people to preventable deaths for the sake of increasing income inequality. Then, they contemplated the risk of bucking their party's leadership, donors, and base for the sake of protecting nonaffluent cancer patients.
And most decided they were much more afraid of doing the latter.
This is important context for Tom MacArthur's weekend visit to Trump National Golf Club in Bedminster. MacArthur represents a New Jersey district whose registered voters are only 2 percent more Republican than Democratic. He was co-chairman of the House GOP's Tuesday Group, a caucus of self-identified moderate Republicans. And yet, when his party's widely despised health-care bill died an untimely death, he decided to spearhead the effort to bring it back to life.
Now, he's counting on the widely despised president and GOP donor class to get him reelected. As Politico reports:
President Donald Trump headlined a fundraiser for New Jersey Rep. Tom MacArthur on Sunday afternoon, raising more than $800,000 for the two-term Republican congressman, according to a spokesman.

… The event was closed to press, but MacArthur campaign strategist Chris Russell said Trump's remarks focused on MacArthur's role in revamping the House GOP's Obamacare replacement bill."[Trump] talked about the health care fight," Russell said. "[He was] very complimentary of Tom and his efforts on health care and, moving forward, sees him as a leader in Washington."
MacArthur will be a test case for whether the high turnout rate of elderly white people — combined with the deep pockets of right-wing billionaires — can insulate House Republicans from public opinion (and/or democratic accountability).
Only 8 percent of Americans want the health-care bill that MacArthur "revamped" to pass the Senate. Only 38 percent like having Donald Trump as their president.
MacArthur thinks his survival depends on preaching to that small, well-funded choir. Judging by developments in the Senate, many of his fellow GOP "moderates" think the same.