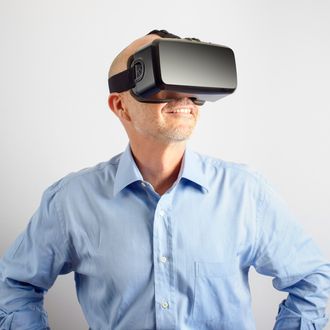 Photo: Christopher Ames/Getty Images
As Silicon Valley continues to take its cues from science fiction (artificial intelligence, self-driving cars), it's a tight race on any given day for who or what will produce "the most dystopian thing I've ever seen." Today, it is Walmart using VR to train its underpaid workers on how to handle Black Friday crowds.
Walmart, in partnership with VR firm Strivr, is rolling out virtual-reality training to its 200 Walmart Academy training centers across the country.
On the one hand, training someone to handle Black Friday crowds without actually making them get trampled or punched in the face is a good idea. On the other hand, Strivr has a weird way of talking about workers. From the Verge:
"We're using computer vision to map scenes, so we literally know exactly where someone's looking," says [Strivr CEO Derek] Belch. "If they don't look at [the right place] and press the button indicating that they have seen the stimuli that we're looking for, we know."
I love this new future where workers for a retail chain that notoriously treats them like crap are encouraged to press the button after they've seen the stimuli, like some sort of lab experiment. It's good.